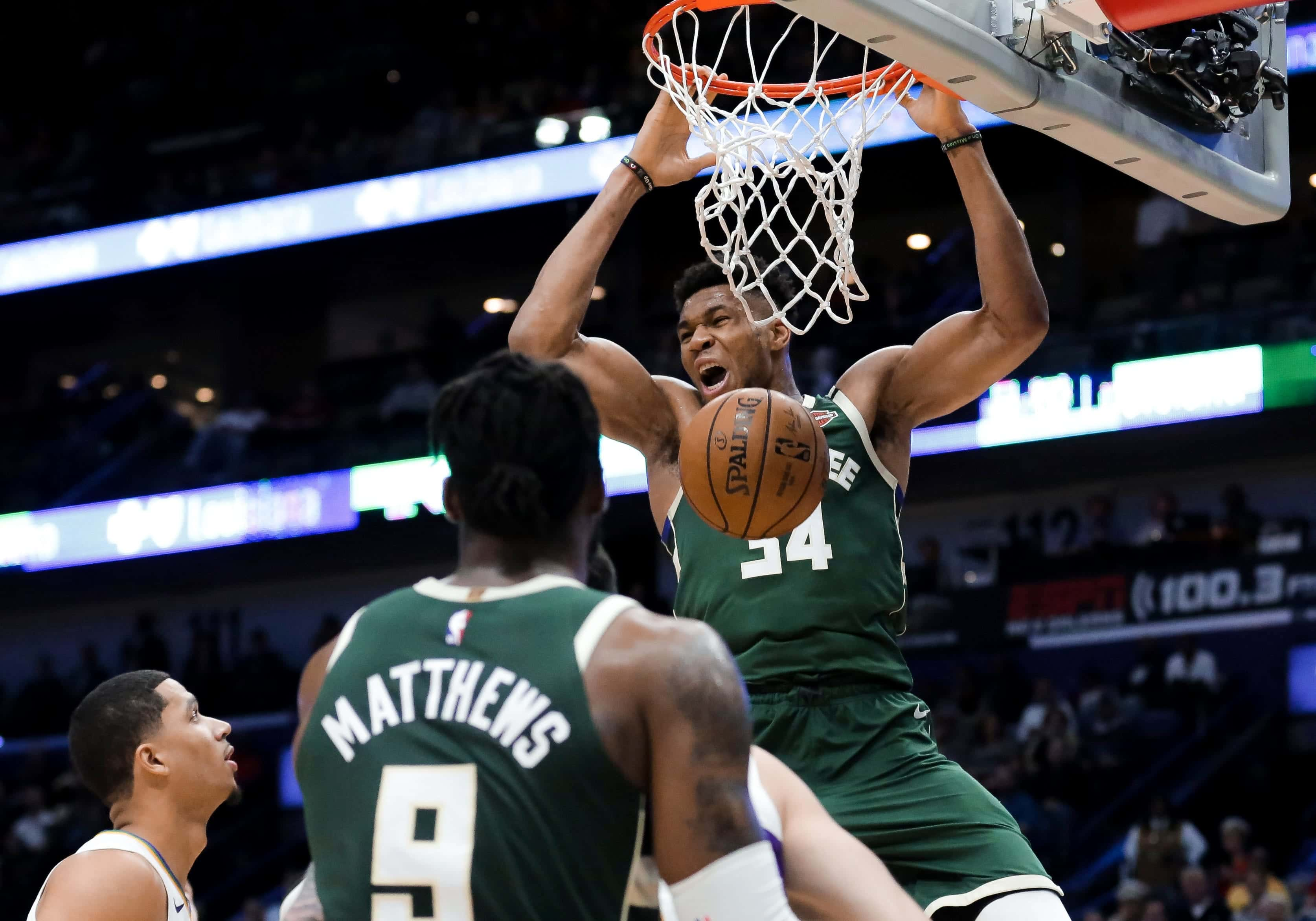 Giannis Antetokounmpo, 25, has accomplished a great deal in his relatively brief NBA career. In fact, he could become the 12th player in league history to win back-to-back MVPs.
The other players to achieve that feat? Steph Curry, LeBron James, Steve Nash, Tim Duncan, Michael Jordan, Magic Johnson, Larry Bird, Moses Malone, Kareem Abdul-Jabbar, Wilt Chamberlain, and Bill Russell.
That's a pretty good list to be on.
So, is Giannis the MVP this year?
"Regular season, without question," Bucks TV analyst and five-time All-Star Marques Johnson said on The Zach Gelb Show. "But my thing, I've been this way for years, ever since Karl Malone beat out Michael Jordan. There was a media collusion. All the media got together and said, 'Look, Michael's won it enough. Karl's had a great year, a comparable year. Let's give it to Karl.' He wasn't the MVP."
Malone was named MVP in 1997, ultimately losing to Jordan and the Bulls in the NBA Finals.
"Wait until the playoffs are over," Johnson said. "Wait until it's all said and done. Giannis may still be the MVP. Even if the Bucks [don't] win a championship, he could still have a great postseason and be deserving. But if you base it on the regular season, you can't give it to anybody else but Giannis. Even though LeBron came on strong late, Giannis' consistency from day one [is the difference]."
Antetokounmpo averaged 29.6 points, 13.7 rebounds and 5.8 assists this season, leading Milwaukee (53-12) to the best record in the NBA.
"You look at what he does at both ends of the floor, it's hands down Giannis Antetokounmpo," Johnson said of the MVP award. "Back-to-back this year – and well-deserving."
But do the Bucks have enough to win an NBA title? Can they win it all with Khris Middleton as their second-best player?
"I really believe with Khris it's all about his confidence," Johnson said. "Being an All-Star for the second consecutive year, I think, really helps his belief in himself as being one of the elite players in the league and definitely one of the elite shooters in the league."
Middleton averaged 21.1 points, 6.2 rebounds and 4.1 assists this season. He shot 49.9 percent from the floor, 41.8 percent from three-point range, and 90.8 percent from the foul line.
He also reported to Orlando in fantastic shape.
"He's got some guns for arms," Johnson said. "He's got this definition I've never seen before, his body fat is probably way down – he looks really good, really in great shape. He's really put in the work during this time off to come back and make himself better physically."
The Bucks advanced to the Eastern Conference Finals last season and took a 2-0 lead on the Toronto Raptors. Toronto, though, came back to win the series in six games – and then beat Golden State in the Finals.
Middleton averaged just 13.7 points against the Raptors in that series.
"He's got a lot to prove," Johnson said. "But based on what I'm looking at in terms of his body and where he is physically, where he is mentally right now, I think he's ready to make that statement."