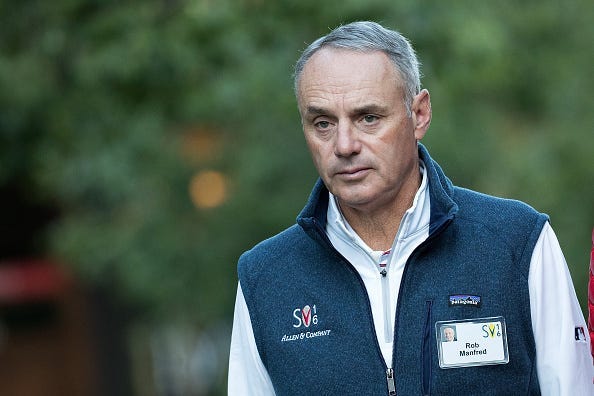 MLB Commisioner Rob Manfred apparently didn't mince words Friday – he thinks the 2020 season is in jeopardy.
According to ESPN's Jeff Passan, Manfred met with MLBPA executive director Tony Clark, and acknowledged that baseball needs to begin to contain and move past a COVID-19 outbreak that has already drastically affected the schedule for multiple teams. RADIO.COM MLB Insider Jon Heyman hears that while this discussion did take place, it was less of Manfred saying that such a decision is being neared, and more of him hoping to avoid reaching a place where it has to be made.
Despite multiple Marlins' players already having tested positive, MLB allowed the Phillies-Marlins series finale to be played at Citizens Bank Park last Sunday. That proved to be a disastrous decision, as 18 of the 30 players on the Marlins' active roster for opening day have now tested positive for COVID-19.
Meanwhile, the Phillies haven't been able to play at all this week either. Thursday, the team announced that while no players have tested positive, a member of the coaching staff and home clubhouse staff had. There were no new positive tests to report on Friday, but the Phillies have seen seven games postponed this week because of having been around the Marlins. The hope is that they can return to action early next week, and manager Joe Girardi has already advocated for winning percentage, rather than exact record, determining the eight teams in each league that will go the postseason.
Just as both the New York Yankees and Baltimore Orioles got back into action after having to wait because they had been scheduled to play the Phillies and Marlins, two St. Louis Cardinals pitchers reportedly received word of positive tests Friday. This evening's Cardinals-Brewers matchup has been postponed, with the expectation that the game will be moved into a double-header Sunday, though that assumes no more positive tests materialize.
LISTEN NOW on the RADIO.COM App
Follow RADIO.COM Sports
Twitter I Facebook I Instagram