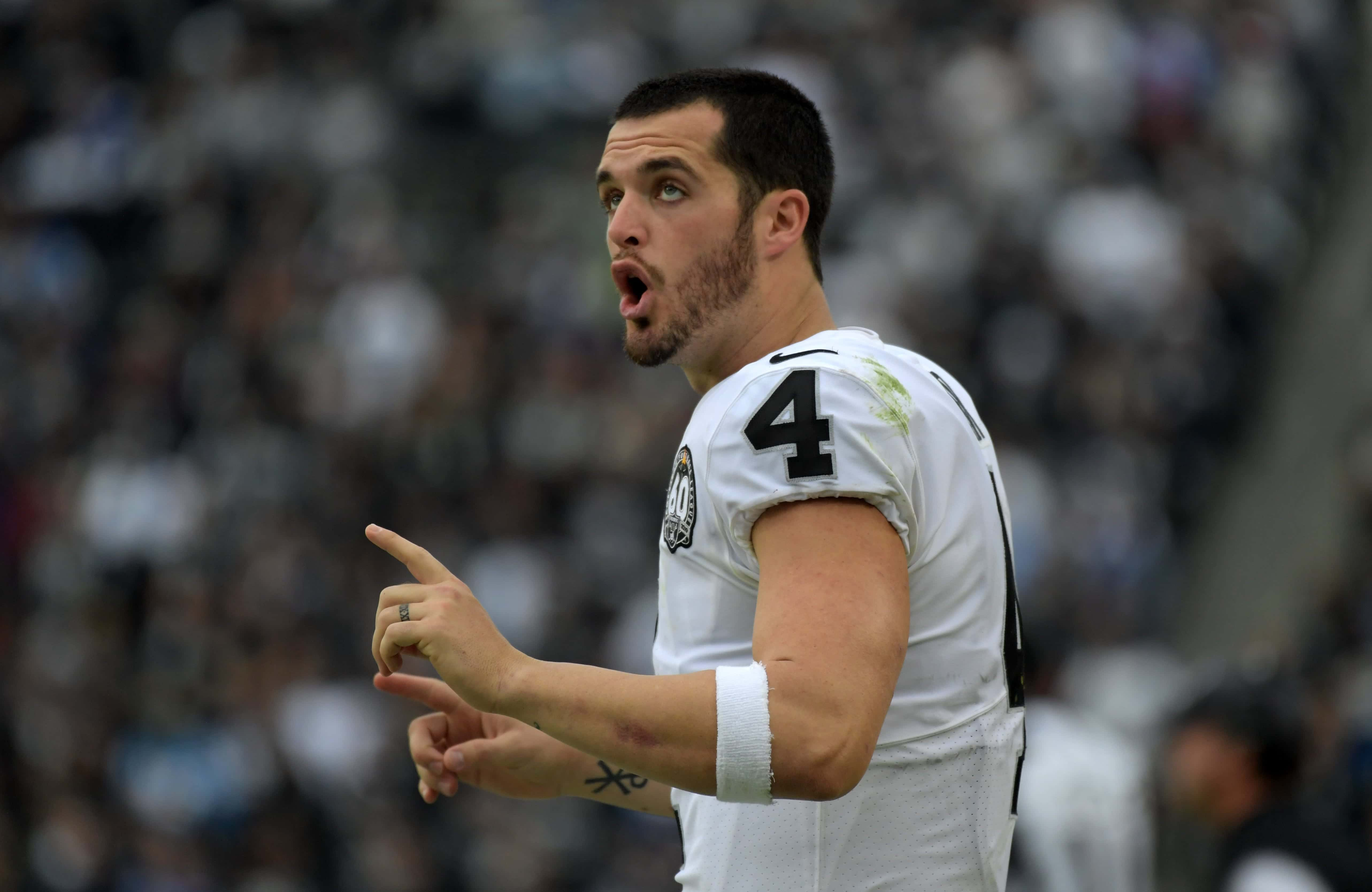 Six seasons into his NFL career, Derek Carr has never won a playoff game. In fact, he's never even played in a playoff game. The Raiders are also 17-31 over the last three seasons.
Nevertheless, the 29-year-old Carr says he's "tired of being disrespected."
JR SportBrief has no idea why Carr feels that way.
"Derek Carr is tired of being disrespected?" JR asked on CBS Sports Radio. "Where's the disrespect? Are we going to strictly blame your teammates? Are we going to blame Coach Chucky [Jon Gruden]? Let's think about things here. The Raiders [went] 7-9 last year. I believe they will improve. They got a lot of great, solid, young players. [In] 2018, a record of 4-12; 2017, a record of 6-10; 2016, they went 12-4; the year before that, 2015, they went 7-9, even though Derek Carr went out there and had 32 touchdowns and 13 interceptions; and in 2014, the Raiders went 3-13."
Moral of the story: Carr has lost way more games than he's won.
Last year, Carr threw for a career-high 4,054 yards, which ranked eighth in the league. He threw for 21 touchdowns – the second-fewest of his career – which ranked 19th.
Those numbers aren't exactly impressive.
"So, when we talk about respect, when we talk about being under-appreciated, when we talk about unappreciated, when we talk about being overlooked, don't you got to win something?" JR asked. "Don't you actually have to have some type of success? I'm not talking about individual success. Because a lot of people think Derek Carr basically fell off the side of a van. A lot of people think that Derek Carr has been MIA, that he's on a milk carton. A lot of people believe that Marcus Mariota is a favorite of Coach Chucky, and they think ultimately Derek Carr will be replaced."
Indeed, Gruden took quite a liking to Mariota during Gruden's QB Camp in 2015.
"He got very excited," JR said of Gruden. "So you bring in someone that you've always been adamant about from the quarterback position, and then you have your incumbent quarterback who is talking about how he feels unappreciated even though he hasn't won a damn thing. That clip is so hilarious to me, where we have someone who's basically been a losing quarterback throughout his career [complaining about disrespect]. I'm not saying that Derek Carr is void of talent, that he can't do anything. I actually like Derek Carr. I spoke to and interviewed Derek Carr the minute he was drafted into the NFL, and I like him. He's a good dude. But I don't know if he's justified in saying he's not appreciated or he's overlooked. This clip just makes me laugh."
JR's advice to Carr: Stop talking. Play better.
"Win some damn games," he said. "I'm not going to say it's all Derek Carr's fault, but shut up and prove it. It's not like he's even had a stretch of success. It's not like he even hit a peak. It's not like he was even able to hit a plateau. He hit one peak, 12 games one year, and then he went the hell back down. Certain guys need to just pipe down, and I guess this is Derek Carr. He's played enough years, he's been around enough, the team is now going to be playing in Las Vegas, Oakland unfortunately is in the rearview mirror. But Derek Carr needs to do his work on the field. For a guy who may actually lose his job, he doesn't need to talk about how he has been overlooked. Get the hell out of here with that."