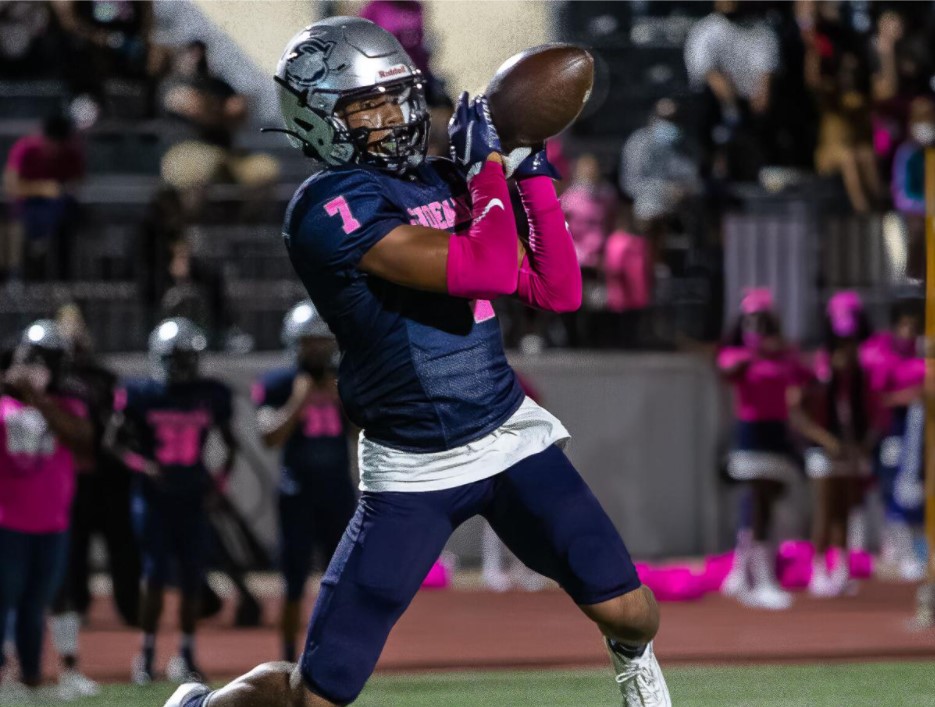 The high powered Shoemaker Grey Wolves offense returned as the Grey Wolves moved to 2-0 in District 12-6A Thursday night.
The Grey Wolves beat the Killeen Kangaroos 45-24 Thursday night at Leo Buckley Stadium by executing on offense and turning Kangaroo turnovers into points.
Fumbles on the first two possessions by the Kangaroos saw the Grey Wolves take a 10-0 lead early in the first quarter.
A third fumble by the Kangaroos deep in their own territory with under a minute to go in the first half turned into another Grey Wolves touchdown when senior quarterback Ty Bell found junior wide receiver Omari Evans to put the Grey Wolves up 24-10 at halftime.
The Grey Wolves got the ball to start the second half and drove the ball 75 yards when Bell found Evans through the air again for a 31-10 lead and although the scoring was far from over, that score was all the Grey Wolves would need.
An early fourth quarter touchdown pushed the lead even further before multiple fourth quarter scores pushed the scoring up.
Bell threw two touchdowns and ran for one in the first half. The receivers were Evans and senior Trenton Hudson. He added two touchdowns through the air in the second half, senior wide receiver Monaray Baldwin the receiver of one.
Senior running back Devin Brown added a late 45 yard touchdown run to his statline that included 67 yards on nine carries.
Toby Foreman, the head coach for the Grey Wolves, was much happier with his team's performance this week than last week.
"Overall the performance was better, and that's what I'm pleased with, the kids got after it," Foreman said.
He added that he is very happy with his defense forcing turnovers.
"The defense has been very aggressive on forcing turnovers and I'm very pleased with that. If we can continue that and giving the offense a short field, we can do a lot with a short field because our offense can score like that," he said.
Foreman also discussed next week's game against Copperas Cove.
"We've only beaten Cove twice in 21 years and that's a big deal because Copperas Cove is going to come ready to play us," Foreman said. "Overall they have a good team and overall they do a good job of coaching over there."
Kangaroos senior running back Kadarius Marshall ran for 90 yards and one touchdown.
Senior quarterback Jayden Hill ran for 99 yards for the Kangaroos.
The Grey Wolves will be taking on the Copperas Cove Bulldawgs in Copperas Cove next Friday with kickoff scheduled for 7:30 p.m.
The Kangaroos will play host to the Ellison Eagles at Leo Buckley Stadium next Friday with a 7:30 p.m. kickoff.
Shoemaker 45, Killeen 24
— KILLEEN DAILY HERALD