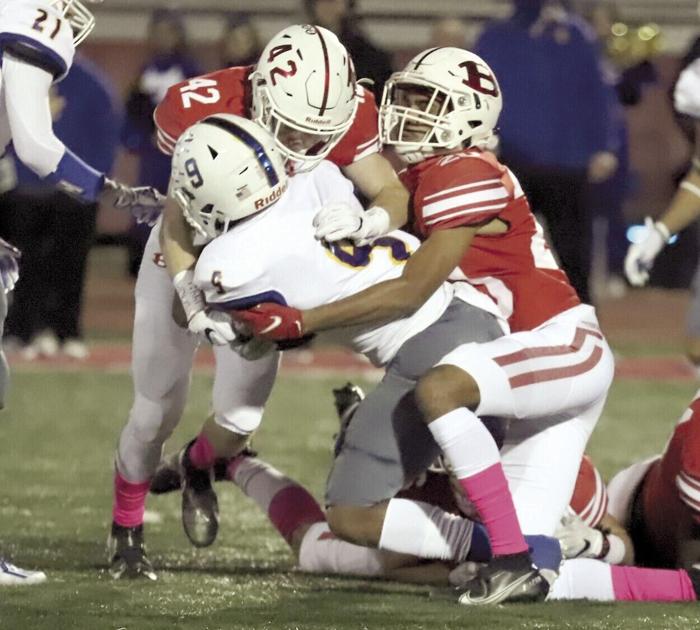 The Belton Tigers didn't find the results they were looking for during their season-opening, three-game losing streak in non-district action, but they took away other positives and showed their growth in their return to Tiger Field on Friday night.
In its first home game since Week 1, Belton outgained Copperas Cove 432-289, allowed its fewest points of the season and took command of the District 12-6A contest with a clock-draining drive to start the second half en route to a 26-14 victory — the Tigers' second straight district win.
"Coming off that first win last week, it gave us momentum coming into tonight. Now, after winning this game, we're building even more momentum to keep pushing through the season," senior quarterback Ruben Jimenez said. "We hope to be one of those top four teams in district at the end. But for now, we're just worried about next week."
"It was a good performance, but we have plenty to work on next week. I guess that's just the perfectionist in me," said Belton head coach Brett Sniffin, whose team plays at Bryan next Friday. "Overall, we made plays when we had to."
Leading 14-7 at halftime, Belton came out to start the third quarter and did exactly what it has strived to do all year long — run the ball consistently as part of long, time-consuming drives. The Tigers went 59 yards in 16 plays, burning more than 6 minutes off the clock with a march that ended with a 1-yard TD run by Jimenez to put Belton up 20-7.
The Bulldawgs (1-4, 0-2) punted for the third time on their next possession, and Belton showcased its ability to score with quick, explosive plays, as well. Jimenez escaped from a collapsing pocket and threw a 68-yard TD pass to Utley with 1:40 remaining in the third quarter to give the Tigers a 26-7 advantage.
"We were hoping that long drive would be the nail in the coffin," Sniffin said. "We rely on our offensive line a lot, and those boys did it again tonight. We made some adjustments at halftime, and it turned out really well."
Copperas Cove responded with a lengthy series early in the fourth quarter as the Bulldawgs went 75 yards in 15 plays and scored on a 1-yard TD run by quarterback Shane Richey with 6:15 to go that cut Belton's lead to 26-14.
Belton punted on its ensuing drive, but the Tigers defense forced an incomplete pass on fourth down from the Belton 20.
Friday's game didn't start out pretty, with both teams turning over the ball on their opening possessions. Cove fumbled on its first play, and Jimenez threw an interception on Belton's second offensive snap of the night. The Tigers regrouped and took an early 7-0 lead when Reed found the end zone late in the opening frame.
"We gave them a lot of time to start the second half," Copperas Cove head coach Jason Hammett said. "We committed too many turnovers and we just had too many mistakes that we need to fix."
— KILEEN DAILY HERALD