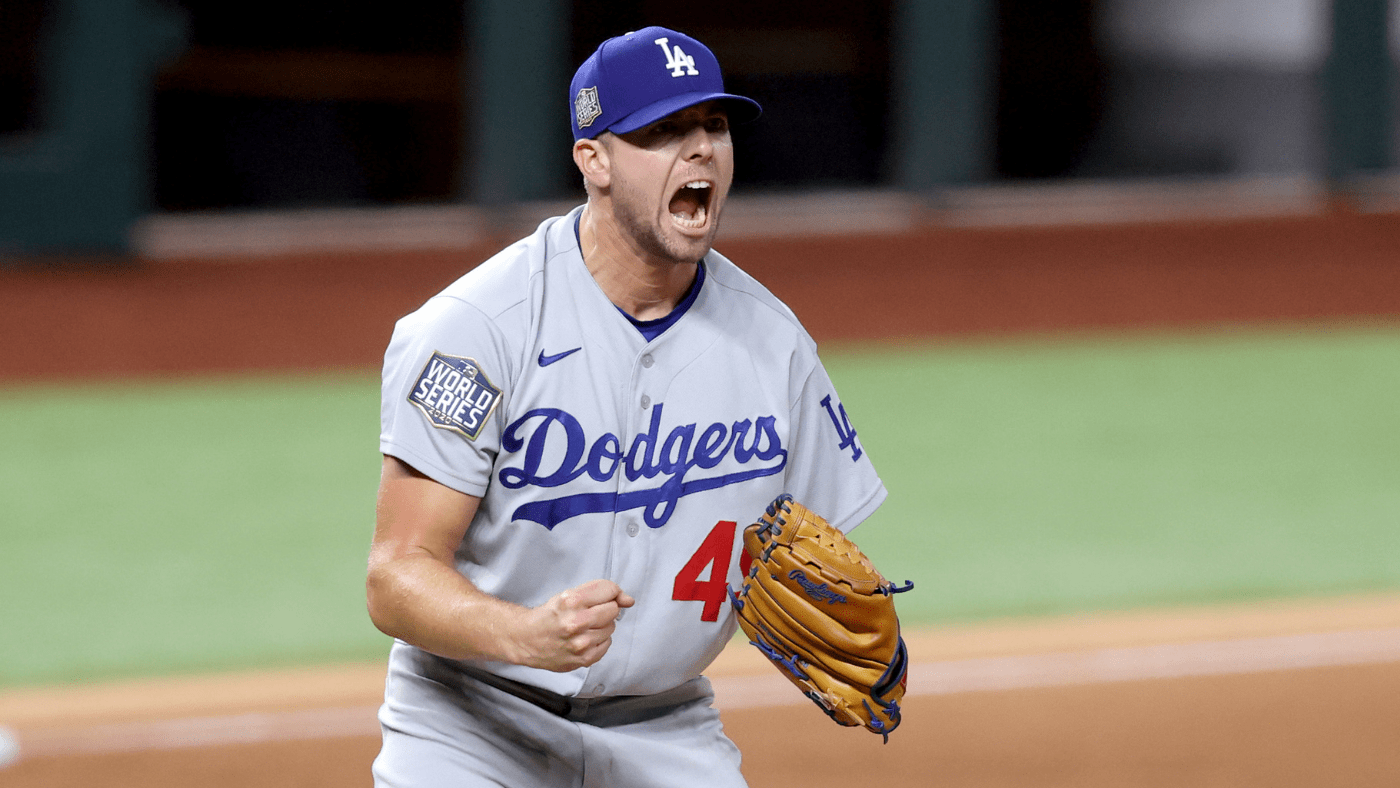 The Dodgers have a 3-2 series lead
The Los Angeles Dodgers are now one win away from their first World Series title since 1988. The Dodgers, behind a solid outing from Clayton Kershaw and some early offense, took Sunday night's Game 5, 4-2, over the Tampa Bay Rays. Los Angeles now holds a 3-2 series lead. The trend of no team winning consecutive games stuck through Game 5 of the 2020 World Series, as the Dodgers have now won Games 1, 3 and 5 with the Rays taking Games 2 and 4.  How did it all go down? Let's take a look.
Dodgers strike first
Coming off the way things ended in Game 4, the Dodgers did an excellent job of not letting any negative feelings linger into Game 5. The first batter of the game was Mookie Betts, and he put together an outstanding eight-pitch at-bat for a double off Rays starter Tyler Glasnow. Corey Seager quickly singled him home and they were leading just minutes into the game. Cody Bellinger singled later in the inning to plate a second run. Then Joc Pederson went deep in the second:
Dodgers make home run history
In the fifth, Max Muncy did also some yard work:
Muncy hadn't homered since the NLCS. This blast made him the ninth Dodgers player to go deep this World Series, which is a record. The 1989 "Bash Brother" A's had eight players homer, and that was the previous record (via James Smyth).
Rays strike back, but squander big chance
In the bottom of the third, Yandy Diaz tripled home a run and then scored when Randy Arozarena followed with a single against Kershaw. We'll pause for a second here to note that Arozarena with this hit set the record for the most hits in a single postseason with 28. It isn't too surprising that someone broke the record this year with the expanded playoffs, but I'm not sure anyone would've bet on Arozarena back in September.
Anyway, it was 3-2 Dodgers and the Rays then threatened in a major way in the fourth inning. Manuel Margot walked, stole second and advanced to third on the throw getting away from Chris Taylor at second. Hunter Renfroe walked and the Rays had runners at the corners with nobody out. That should be just about a gimme to score one run and tie the game. Instead, Joey Wendle popped out meekly, Willy Adames struck out and then Margot was caught trying to steal home.
The last time a player was caught stealing at home in a World Series game was Game 4 of the 1991 World Series, when the Braves (with John Smoltz on the mound, who was doing color commentary in 2020 Game 5!) caught Shane Mack of the Twins at home.
Margot got an incredible jump and was nearly safe to tie the game. With runners on in a big spot, big-time kudos to Kershaw and the Dodgers for executing there. A lot of pitchers would've balked when alerted to the runner heading home or even made an errant throw.
Kershaw was mostly good and was pulled in the sixth
Speaking of Mr. Kershaw, he's always going to be a big story in a postseason start at this point. He did fine work overall. He wasn't nearly as sharp as he was in Game 1 and we can't call him dominant or anything, but he held the lead his team gave him. In 5 2/3 innings, he gave up two runs on five hits with six strikeouts and two walks. That's a perfectly acceptable line from him in a huge game.
Now, it feels like he might have been pulled early after only 85 pitches, but the plan by Dodgers manager Dave Roberts was to get Kershaw through 21 batters and that's exactly how many batters he faced. He was removed with the lead. Call it a success.
In the process, Kershaw passed Justin Verlander for the most career postseason strikeouts with 207 (Verlander has 205). More on Kershaw here.
May bounces back
Dodgers pitcher Dustin May had a rough last few outings in the playoffs. In his last three times out (two in the NLCS and one in the World Series), he allowed six runs on eight hits while also walking four hitters in 4 1/3 innings. In Game 2 of this series, he coughed up three runs on four hits in just 1 1/3 innings.
In Game 5, he relieved Kershaw and gave the Dodgers with 1 2/3 innings of scoreless ball, providing the bridge from the middle to late innings for Roberts. But …
Big Moment in the eighth
Kevin Kiermaier singled to start the eighth for the Rays and after getting a fly out (the contact was somewhat loud), May was removed from the game for lefty Victor Gonzalez. He walked Mike Brosseau, which meant it was 4-2 with two runners on base and one out with Randy Arozarena coming to the plate. Double play to end the inning? Home run for the Rays to take the lead? This had the look of a game-defining plate appearance. Instead, he flew out on the first pitch. Brandon Lowe followed with soft, looping lineout to center — Cody Bellinger showed off his speed to run this one down — and the threat was extinguished.
The Rays can point to their fourth and eighth innings as the culprits here in the loss. Giving up four runs to an offense like the Dodgers is forgivable; they just didn't take full advantage of their scoring opportunities on offense.
Glasnow hit hard early before settling down
Glasnow, the Rays starter, entered the game with a 6.08 ERA in the playoffs. Then he allowed a double and RBI single to the first two batters of the game. Another run would score later in the inning and then Joc Pederson homered in the second and the Rays were in a 3-0 hole awfully early.
With the Rays' bullpen taxed and not having a great option to get length, they really needed more from Glasnow to not significantly impact how things stood for Game 6. He ended up really setting in after and only allowed a Max Muncy solo bomb the rest of his way through five innings. It wasn't a good outing, but it was so much better than things were looking when Pederson homered.
Of note here: Glasnow made dubious history by becoming the first pitcher in World Series history to throw three wild pitches in one game.
The Dodgers can win it all on Tuesday
There's a day off on Monday before Game 6 is played Tuesday night. The bullpens get a day of rest before it's Blake Snell for the Rays and likely a bullpen game from the Dodgers. The Rays took Game 2 with similar pitching plans to this one.
For the Dodgers, they'll be looking finally get that elusive World Series trophy. It's been eight years of playoff failures and they can exorcise all those demons, winning the club's first title since 1988.
For the Rays, they have to win to extend the series to Game 7, where they'll have Charlie Morton waiting in the wings. The only other times they faced elimination this postseason were Game 5 against the Yankees and Game 7 against the Astros and they obviously won both. They'll look to do so two more times and hoist the trophy for the first time in franchise history.
— CBS SPORTS