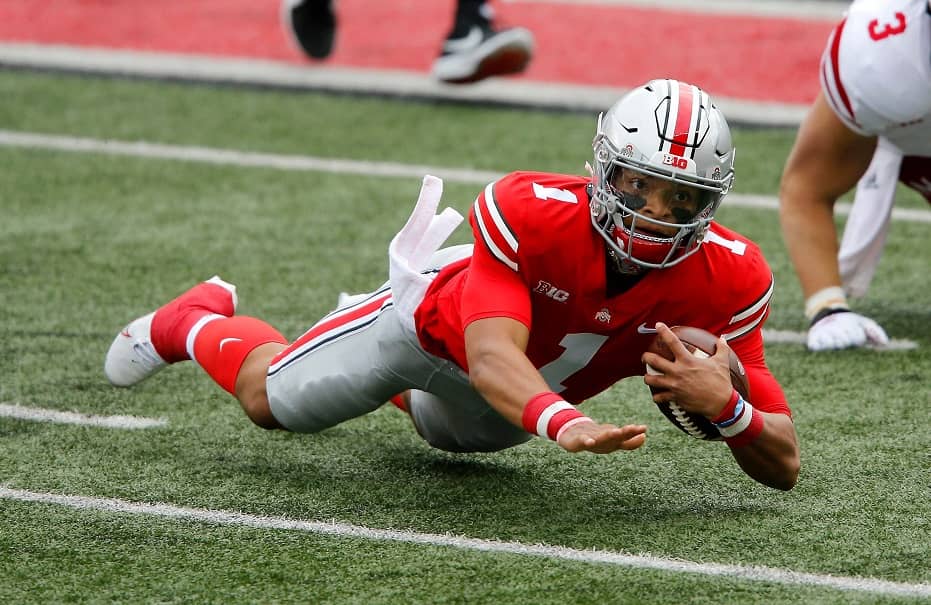 With No. 9 Wisconsin (1-0) canceling its game against Nebraska (0-1) due to a COVID-19 outbreak, it's clear that college football could be headed for a messy fall season.
It remains to be seen how the College Football Playoff committee will evaluate teams that have played a different number of games, but at least one analyst doesn't think it will be too difficult.
"Not everybody is going to play the same amount of games . . . but the voters will be able to tell [who is better] based off of the outcomes and watching the tape [and seeing] how good the teams are," Big Ten Network analyst Joshua Perry said on After Hours with Amy Lawrence. "It might be that Ohio State plays eight games and somebody else played 10. That 10- or 11-game sample size, you'll know how good Clemson is, and you'll know how good Alabama is, how good Notre Dame has looked so far. When you flip on the football, you know who's who."
Clemson (6-0) and Alabama (5-0) are ranked No. 1 and No. 2, respectively, in this week's AP poll, with Ohio State slotting in at No. 3.
Perry is in lockstep with those rankings.
"I think that there is a canyon between Clemson, Alabama, Ohio State and the rest of college football," he said. "It's one, two, three, and then there's a literal canyon between [four and five]."
Trevor Lawrence has been his usual stellar, efficient self this season. He has completed 70.7 percent of his passes for 1,833 yards, 17 touchdowns and two interceptions. He's also rushed for four touchdowns.
"He is the No. 1 overall pick, and it's not even close," Perry said. "I don't think it's close between him and Justin Fields, and I think Justin Fields has cemented himself as the second-best player [in the country] for sure. But Trevor Lawrence does it all. His team looks really good. When he's available for the media, he says all the right things. It's just a total combination. Clemson is going to be somebody to reckon with, but Alabama is right there, too."
Alabama has won its first five games by an average of 22 points. It beat then-No. 3 Georgia, 41-24, on Oct. 17 and has won its last six games against the Bulldogs dating back to 2008.
"Nick Saban does it every year," Perry said. "It literally doesn't matter. He's got it figured out, how to win football games, how to coach that team into being elite. And then Ryan Day [is] right up there. Ohio State is sitting in that third spot only one game in, but you can definitely see it. But Clemson [and] Alabama are very, very dangerous. If you're looking ahead to the College Football Playoff, you want to be in that No. 1 spot because whoever has got to play that 2-[versus]-3 game is going to have a doozy."