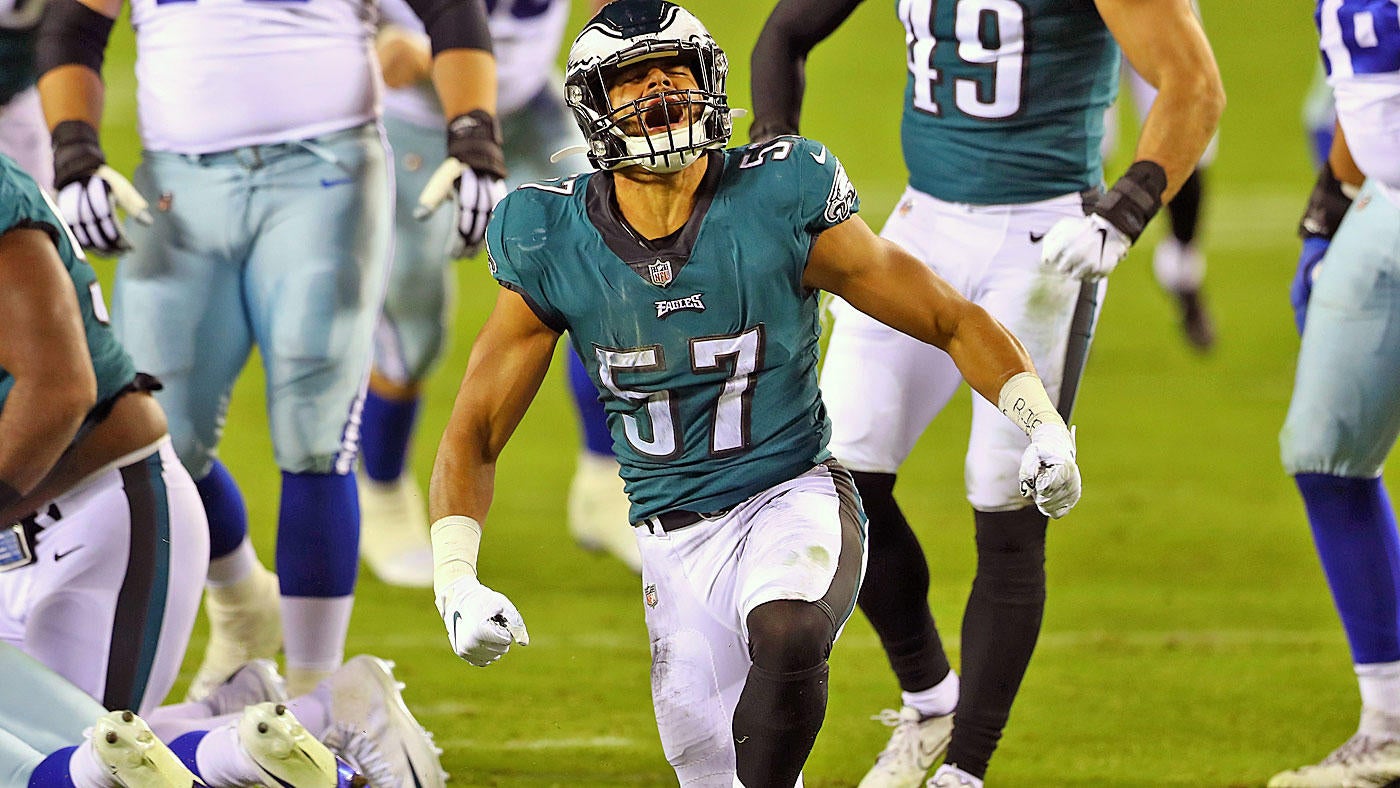 It wasn't pretty, so it was befitting of an NFC East matchup in 2020. In fact, that's probably a big understatement. Still, for the Philadelphia Eagles, Sunday night was a major victory. Carson Wentz continued to struggle with untimely turnovers. A few more notable starters suffered injuries. But thanks to a strong defensive performance and an equally unspectacular showing from the rival Dallas Cowboys, the Eagles left prime time with a 23-9 win and, more importantly, a safe first-place spot atop the NFC East.
Here are some immediate takeaways from Sunday night's ugly divisional showdown:
Why the Eagles won
The Cowboys were worse. In a game where both sides did their best to let the other team win, Philly honestly benefited more from Dallas' offensive ineptitude than anything else.
Still, there were a couple of Eagles positives in an otherwise slopfest of a victory: Travis Fulgham, for one, is a legit wide receiver, as evidenced by the fact that Carson Wentz pretty much only looked good when throwing his way. Fulgham's big plays, one of which actually accompanied a perfect red-zone TD from Wentz, gave occasional life to a unit bogged down by turnovers and poor strategy. Boston Scott, meanwhile, did as much as he could on relatively limited touches filling in for Miles Sanders.
And Jim Schwartz's defense? The best of the bunch. Limited by injuries to several starters, the D was never fazed by Mike McCarthy's creative attempts to lessen Ben DiNucci's burden, instead coming up big in key spots with sacks, takeaways and, ultimately, the game-sealing touchdown.
Why the Cowboys lost
They couldn't do anything on offense. Whereas defense has been Dallas' issue pretty much all year (and that's an understatement), the Cowboys actually held firm in that regard for much of Sunday night, feasting on Carson Wentz's forced throws and poor decisions to the tune of three takeaways.
And yet the offense, which protected Ben DiNucci fairly well up front, never clicked. Amari Cooper was shut out until late in the contest. Ezekiel Elliott never looked explosive. And while DiNucci showed grit and put the team in position to get on the board several times, he also looked a notch below the competition, throwing a handful of near-picks and fumbling twice. The talent disparity at the game's most important position simply did the Cowboys no favors in this very winnable matchup.
Turning point
The Cowboys threatened to completely upend the Eagles' night when Trevon Diggs picked off Wentz for the second time in the contest, wiping away a chance at more points for Philly's offense early in the third quarter. But then on the subsequent drive, Greg Zuerlein's magical leg couldn't deliver a 52-yard field goal, and the Eagles' offense responded by putting together one of its best series of the night, a nine-play, 58-yard TD drive capped by Wentz's scoring toss to Fulgham. The Eagles only went up 15-9 with that touchdown, but it felt like a secure lead thanks to Dallas' own offensive failures.
Play of the game
Wentz's TD to Fulgham was pretty (unlike most of his other throws Sunday night), and Diggs made a heck of a play picking off the Eagles' QB in the end zone, but you know what? Let's give this one to Zuerlein, who shined in a dismal first half by somehow line-driving a 59-yard field goal in windy conditions:
What's next
The Eagles (3-4-1) will rest up on their Week 9 bye before hitting the road for a Nov. 15 rematch with the New York Giants (1-6), their third straight NFC East game. The Cowboys (2-6), meanwhile, will face arguably their tallest task yet in Week 9, hosting the undefeated Pittsburgh Steelers (7-0).
— CBS SPORTS