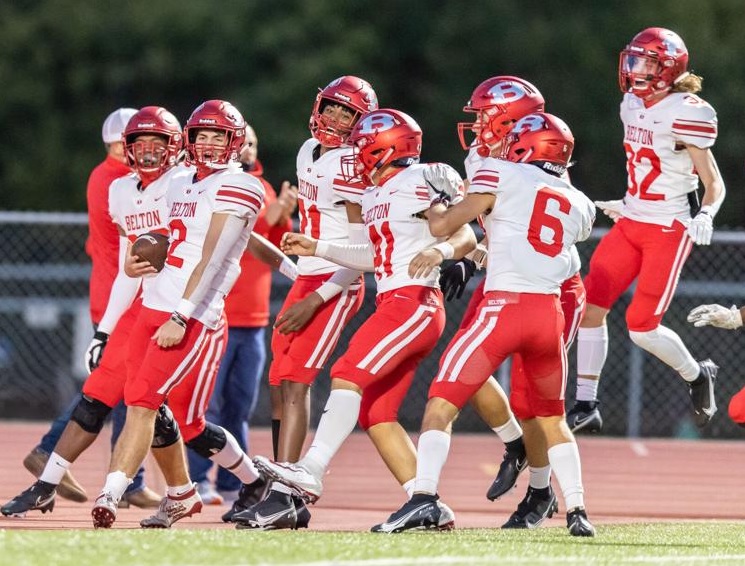 The coronavirus eventually caught up to District 12-6A, and it sacked one of the area's most anticipated rivalry matchups.
Temple and Belton independent school districts announced Tuesday through joint news releases that Friday night's 12-6A football game between the Wildcats and Tigers is canceled and won't be rescheduled this season, a decision ultimately reached with factors in mind such as time and space on the calendar, safety, equitability and the possibility that COVID-19 can still cause other issues.
"Though we hoped to play the game this year, we stand behind this decision and applaud the safety efforts of all schools in our playing district," the news release stated. "We appreciate your patience in this matter as school districts across the state continue to make decisions to navigate these unprecedented times."
Last week, Belton postponed its 12-6A contest against Harker Heights because of positive virus cases and subsequent contact tracing and quarantine results.
Belton also revealed last Friday that the showdown against Temple also would not move forward as had been scheduled, though no final decision was made until Tuesday when the 12-6A District Executive Committee (DEC) — which includes representatives from all eight league teams — met to discuss a series of recent postponements and options for revising the league's remaining slate. One alternative suggested was for teams to play every five days for the next three weeks to ensure the regular season was completed as planned.
The committee, however, voted to leave the original schedule intact, meaning the Belton-Heights game will be made up and the Temple-Belton encounter is canceled and classified as an uncontested game that will be reflected in the league standings as a win for the Wildcats and loss for the Tigers, district representatives confirmed.
The DEC "voted to allow each team the opportunity for one rescheduled game in response to COVID-19 implications," the news release stated. "The vote noted that the rescheduled game should be played in the order that the game was originally canceled. This decision will apply to all schools in the playing district and will impact regularly scheduled games between other schools."
Also Tuesday, Killeen ISD said Thursday's game between 12-6A teams Copperas Cove and Killeen Ellison was canceled. Cove also postponed last Friday's game against Killeen.
So, on Dec. 4, the district's league-wide idle date established prior to the start of the season, Belton is scheduled to make up its game against Harker Heights, and Cove will face Killeen because those were the first to be postponed.
The release also stated that the DEC "exhausted all options in an effort to provide schools the most games without compromising safety or providing an unfair advantage for other programs. With the possibility of having more games cancelled this season as schools continue to manage COVID-19 implications, the idea of having multiple teams make up multiple games became impossible."
Fifth-year Temple athletic director and football head coach Scott Stewart said the situation is unfortunate for all involved.
"Nobody is fired up about this. There's no win in any of this. I want these kids to be able to play. Everybody hates it for everybody," Stewart said. "You want to play as many games as you can but you have to do whatever you can to keep the kids safe. Six months ago, we weren't sure if we were going to be able to play any football. So, knock on wood, seven games, eight games, nine games, is better than no games."
Staying informed
Stewart said this week's developments added yet another opportunity to express the importance of adhering to health protocols, especially as virus cases appear to be on the rise once again.
"The way we approach it is we talk to them ad nauseum about this stuff. Every night before they leave it's like, 'Look, you have to make choices,'" Stewart said. "There are conversations daily about making good choices, and you hope that they follow directions and hope that they do what's best for them and best for all of us. But, I guess, we'll deal with what we have to deal with when we have to deal with it."
What's next for the Wildcats?
With Friday's game now null and void, Temple (6-1, 5-0) shifts its attention to its Thursday, Nov. 19 tilt against fellow league frontrunner Shoemaker (6-0, 4-0), which as of Tuesday is still set to play Harker Heights (3-3. 1-2) on Friday night.
"I'm not sitting here saying, 'Yeah, we have extra time.' I'd rather stay in a routine, stay in a rhythm. So, we are going to just solidify some basic scheme stuff, take a look at that and then get to work on Shoemaker. And, I mean, Shoemaker. Want to talk about team speed? Wow," Stewart said.
"There's growth. I'm proud of how these guys are improving, but we've got a long way to go. You see spurts of really effective and borderline really good and then spurts of, 'What are we doing?' And our toughest tests are ahead of us. So we have to continue to focus on us. We can't worry about who's on the other sideline. We just have to play like we can play."
— KILLEEN DAILY HERALD