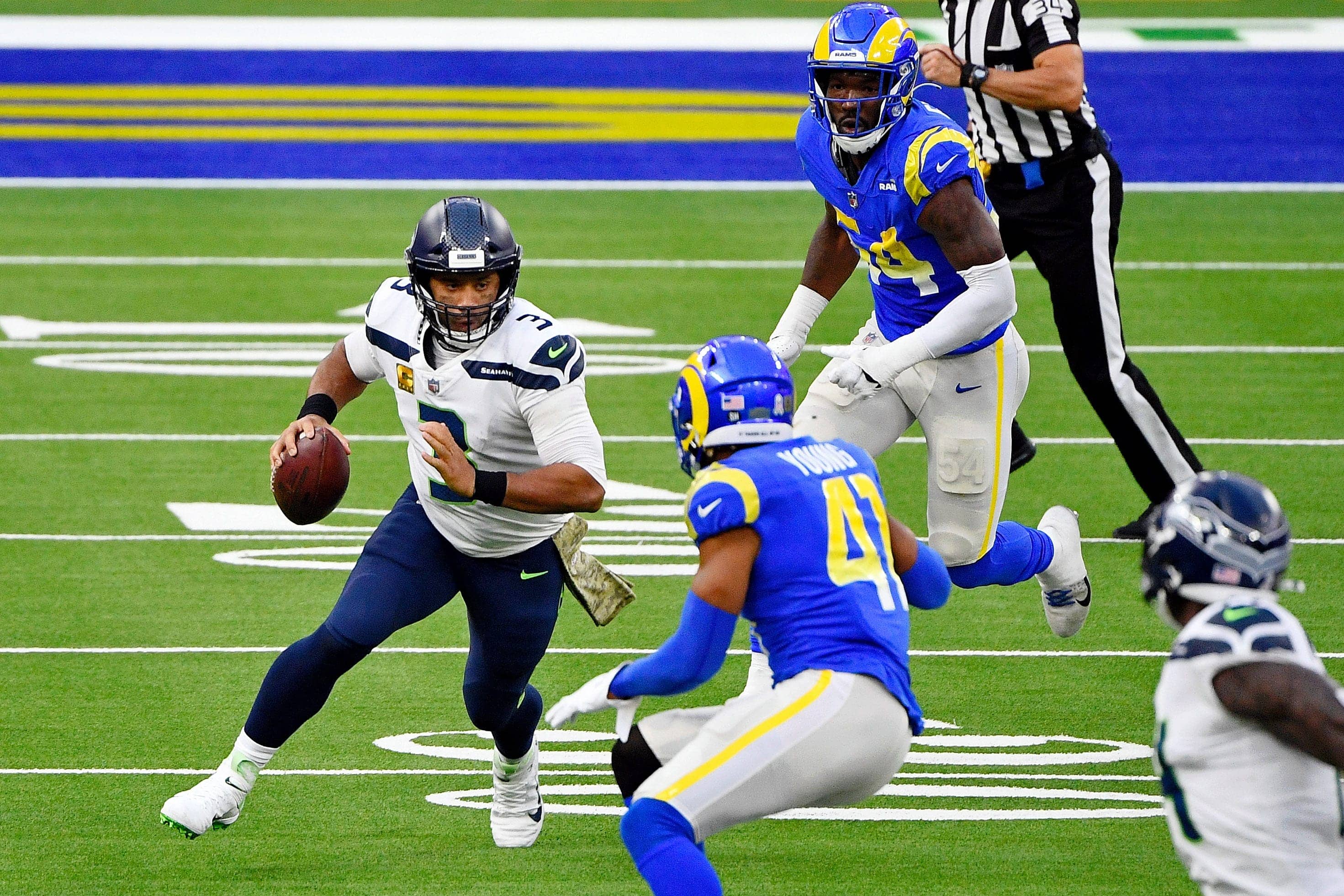 After starting the year 5-0, the Seattle Seahawks have dropped three of their last four games despite repeated heroics from Russell Wilson. 
The MVP candidate has averaged 342 passing yards, 50 rushing yards and two touchdowns in Seattle's losses this season. He also leads the NFL in passing yards per game (309.9) and passing touchdowns (28).
The Seahawks, however, have lost to the Arizona Cardinals (6-3), Buffalo Bills (7-3) and Los Angeles Rams (6-3) in the last month and have just one win since Week 5.
For JR SportBrief, the writing is on the wall in Seattle.
"I don't doubt that the Seattle Seahawks are a team that's going to go to the playoffs," he said on CBS Sports Radio. "I believe that they will still go because of the arm of Russell Wilson. I believe they will still go out there and make some noise. Russell Wilson will always keep them in a game. But they've lost three of their last four. Russell is doing a little too much. I think as we go on in the season, the Seahawks can get back on track. Everything is going to [hinge] on his right arm. I don't know if he's going to get back into the MVP conversation. Maybe if they go on a run, but I don't really think they're going to go to the Super Bowl. I think they have too many holes."
The Seahawks rank last in the league in total defense and 28th in scoring defense (29.6 points per game allowed). Wilson is also Seattle's leading rusher with 325 yards on the ground, as Chris Carson (323 yards) has missed three games due to injury.
"Russell Wilson is going to have to connect with [Tyler] Lockett and [D.K.] Metcalf every single possession – and it's impossible. It's not happening," JR said. "Russell Wilson does not have enough help. There's not enough help on defense. He doesn't have his running backs, and the Super Bowl dreams for the Seahawks, if they were ever there, you might as well flush them down the toilet."
The Seahawks play three of their next four games at home, beginning with a rematch with Arizona on Thursday at 8:20 p.m. ET. But can Seattle slow down the likes of Tom Brady, Aaron Rodgers, and Kyler Murray come playoff time?
JR doesn't think so.
"The team can go on a stretch run, but by the time we get to the playoffs, I'm going to expect defense to matter just a little bit – and the Seattle Seahawks don't have any," he said. "So the team will get better, I expect. They'll go to the playoffs, which I expect. But just like we're in this stretch right now, I think things will fall flat for Russell Wilson and the Seahawks."