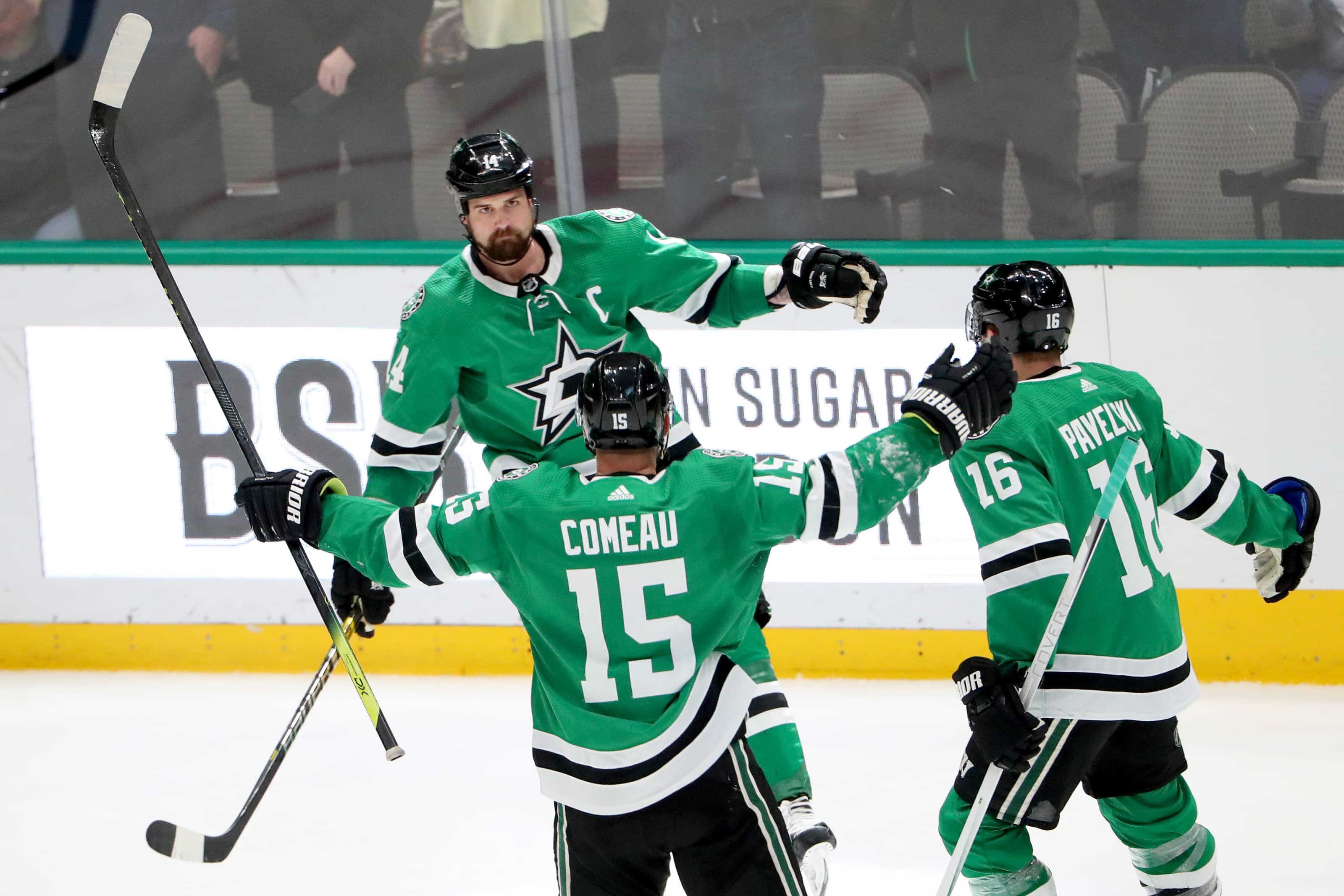 There are still plenty of question marks surrounding the 2021 NHL season. But while we wait for it to take shape and ultimately begin, where do the Dallas Stars currently stand going into a new campaign?
It's been 64 days since the Dallas Stars and Tampa Bay Lightning put a bow on a chaotic and ever-changing 2019-20 NHL season with Game 6 of the 2020 Stanley Cup Final.
Following Tampa's raising of the Cup, both teams headed home and prepared for a fast and furious dose of offseason action around the League.
One week later, the 2020 NHL Draft happened after a three-month delay. Roughly 40 hours after the conclusion of the draft, the free agency period opened and both RFAs and UFAs began either signing contracts with new teams or circling back to their current club to negotiate further.
But as the free agency frenzy slowed down (and did so much quicker than usual), the focus quickly shifted to the next question: what's next?
Two months later, that's still the dominant question hanging over the NHL's head.
Now, there have been plenty of rumors and reports. The NHL and NHLPA have been in relatively consistent communication and a number of phone meetings have occurred. The players' Return To Play Committee has a phone call scheduled for Tuesday and has been meeting regularly, per Pierre LeBrun of The Athletic. And besides a few potential hurdles (such as potential salary deferral, the U.S./Canada border, potential realignment, etc.), the discussions for a new season continue to roll along.
There is reason to believe that this week could very well produce a framework as to how the season will look, when it will begin, and more. It's not a guarantee, but the need for stated progress is becoming more prevalent with the NBA already gearing up for their 2020-21 season, which is slated to begin in three weeks. But the NHL has a few more hurdles to clear than the NBA and wants to make sure that they get this right, so a little extra time isn't a problem.
But if we are on the verge of learning more about a plan for the 2020-21 NHL season, there's reason to begin looking ahead and wondering how each team may fare. And as it always seems to be, the Dallas Stars present an intriguing case.
After all, they have arguably had the busiest year of any team in the League.
Following a whirlwind 2019-20 campaign that included a 1-7-1 record to open the year, a 14-1-1 response, a coaching change in December, hosting a Winter Classic, a 9-3-3 mark in February, and an 0-4-2 skid that was halted by the League pausing the season due to the coronavirus pandemic, the Stars waited patiently for a restart while questions of their legitimacy as contenders swirled.
Once the Return To Play began in early August, the questions and concerns only grew more burdensome as the Stars went 1-2-0 and were outscored 10-4 in the Western Conference round robin. But that sloppy performance quickly became an afterthought as the Stars rolled through the Stanley Cup Playoffs, ousting the Calgary Flames in the First Round and defeating two Stanley Cup favorites in the Colorado Avalanche and Vegas Golden Knights on their way to the franchise's first Stanley Cup Final berth in two decades.
And though they fell two wins short, the resilience shown and storylines crafted left the door open for the Dallas Stars' expectations going into next season.
Follow that up with a smart offseason by Jim Nill that included re-signing Anton Khudobin, Radek Faksa, Roope Hintz, Denis Gurianov, and Andrej Sekera, adding Mark Pysyk to the blue line, and hiring Rick Bowness as the full-time head coach after an impressive stint as interim, one could argue that the Dallas Stars are as well-positioned as any team to challenge for the Stanley Cup once again.
Now, that's dependent on a few things. For one, we don't know what this season (or the corresponding postseason) will look like. The Dallas Stars could end up in an entirely new division with new opponents. They might play all 30 teams, or they may end up only playing the small handful of teams in their new division across 60-70 regular season games.
There's also the uncertainty of just how great of an impact COVID-19 will have on the NHL as it tries to play out a revised season in the safest, most efficient way possible.
But just where do the Dallas Stars stand as a team right now with a new season hopefully on the horizon? A lot has happened over the past two months specifically, and it can be easy to forget details – both small and large – in a crazy year like 2020.
Here's a quick refresher.
Forwards
Nill took care of business with his forwards on the free agency front and found a way to effectively maneuver a flat cap, leaving the team around $250,000 in space at the moment. Mattias Janmark (signed with the Chicago Blackhawks) and Corey Perry (still a free agent) were the only casualties from the Stars' 2019-20 team, giving the forward group a favorable outlook heading into next year.
Radek Faksa signed a long-term deal at a favorable cap hit, while Roope Hintz and Denis Gurianov signed bridge deals after impressive starts to their respective NHL careers. With that being said, the Stars are set up relatively well with some flexibility going into the 2021 season.
During his end-of-season media availability, Nill said that Tyler Seguin would likely be the only forward not ready for the start of the regular season. The top-line center had a right hip arthroscopy and labral repair on Nov. 2, and the recovery time is approximately five months following the date of the surgery. That would put Seguin's timetable for return around early April, meaning he could miss up to three months of the regular season.
But even in his absence, the Dallas Stars look positioned to manage without him. They already have a number of NHL-proven forwards that can play center on their roster, including Roope Hintz, Joe Pavelski, Radek Faksa, and Jason Dickinson. Mix in Justin Dowling and prospects like Ty Dellandrea (who is currently on a loan in Finland), Nick Caamano, Rhett Gardner, and Jason Robertson who can fill in any holes that might come about, the Stars seem to have options. It might take a little bit of cap gymnastics as the season rolls along, but Nill should be able to make it work with relative ease.
As for an opening night lineup, the Stars may run with something along these lines (assuming everyone is healthy and ready to go):
Jamie Benn – Joe Pavelski – Alexander Radulov
Joel Kiviranta – Roope Hintz – Denis Gurianov
Andrew Cogliano – Radek Faksa – Blake Comeau
Jason Dickinson – Justin Dowling – Jason Robertson
Extras: Nick Caamano, Ty Dellandrea
But there's still a lot to sort out before line combinations become a priority, so stay tuned on that front.
Defensemen
While offense and consistent scoring have been an issue for the Stars over the past two seasons, the defense has held steady as one of the top units in the League.
Miro Heiskanen is getting better with each season and just had a record-setting postseason. John Klingberg turned a shaky 2019-20 showing into an impressive postseason effort that reestablished him as one of the top offensive defensemen in the game. Esa Lindell continues to be a reliable two-way role player.
Andrej Sekera started the Return To Play on a rough note, but quickly rebounded as the playoffs rolled along. And Jamie Oleksiak arguably became the Stars' second-most consistent defender after playing in all 96 of the Stars' games (regular season and postseason) last year, fitting in across the lineup with different partners and playing a steady, physical role on a nightly basis.
As of this moment, the Stars have a nice mixture of young talent, veteran leadership, and strong chemistry on their blue line.
And on Oct. 10, Jim Nill added to that balance by signing Mark Pysyk to a one-year deal. The former first-round pick comes to Dallas after spending four seasons with the Florida Panthers in which he played both defenseman and forward. That should play well into Rick Bowness's efforts to get the defense more involved in the offensive zone, which helped create an uptick in scoring during the Stanley Cup Playoffs.
Julius Honka also signed a one-year, two-way deal at the end of October after spending part of last season playing in Finland, so he seems to be yet another option should the Stars need fillers in the lineup.
Joel Hanley and Taylor Fedun are still under contract for another year and once again proved to be reliable "seventh-man" options during the postseason. And to top it all off, Thomas Harley gained a lot of valuable experience in the bubble with the Stars and looks close to being "NHL ready."
The lone question mark is Stephen Johns, who did not feel comfortable after playing in the round robin and the first game of the First Round. Johns had been sidelined from March 2018 – January 2020 due to post-concussion syndrome and post-traumatic headaches before being cleared and feeling ready to step back into the lineup. He played in 17 regular season games and tallied two goals and five points prior to the pause.
While Johns's future is still uncertain, the Dallas Stars have 9-10 NHL-ready options to use when crafting their blue line this season. That's a luxury that not many teams possess, and should only play into the Stars' favor as the 2021 season unravels.
Goaltending
Along with Tyler Seguin, Ben Bishop also had a recent surgery that will likely require him to miss the beginning of next season. Bishop had surgery to repair a torn meniscus on Oct. 21. The recovery time is also approximately five months from the date of the surgery, meaning Bishop will likely be sidelined until the end of March.
Enter the re-signing of Anton Khudobin.
After playing in 25 of the Stars' 27 postseason games and posting a .917 save percentage, 2.69 goals-against average, and more saves in a playoff year than any goaltender in franchise history, the need to re-sign Khudobin seemed obvious. And while the goaltender tested the market for a brief period on the first day of Free Agency, he eventually circled back to sign a three-year contract with Dallas.
That contract became even more significant when the news of Bishop's surgery and recovery time was announced. Not only is Khudobin already a trusted goaltender within the organization, but he also just proved his value with a couple of dazzling performances and impressive consistency throughout the Stars' run to the Stanley Cup Final.
Khudobin will take on the starting role for the Dallas Stars once the season begins and likely be asked to face the heaviest workload of his career while Bishop recovers.
Following him will be 2017 first-round pick Jake Oettinger, who backed up Khudobin for the back half of the playoff run after Bishop was shut down. The soon-to-be 22-year-old was the lead net-minder for the Texas Stars in 2019-20 and gained experience up in the bubble. The Stars (and Oettinger, for that matter) believe he's ready for NHL action, but they will likely try and ease him in rather than forcing him into the mix.
With a tandem of Khudobin and Oettinger, the Dallas Stars' crease will look substantially different than in the recent past. But there's reason to believe that it can still potentially be a top-10 duo in the NHL, assuming Khudobin can continue to post impressive numbers during a heavy workload and Oettinger can assimilate to the NHL game quickly.
But with Khudobin back and Landon Bow re-signed to round out the goaltending depth chart along with Colton Point, the Stars should be able to manage in the crease during Bishop's absence.
Of course, all of this is reliant on the NHL season beginning in the near future. But as of now, all signs point to the hope of news and a solidified plan being released in the coming days.
That's still a big if at the moment, but if it does come to pass, the countdown will be on as the Dallas Stars await a chance to run it back and take another swing at making history with their current core.
We'll see what happens.
—- FANSIDED