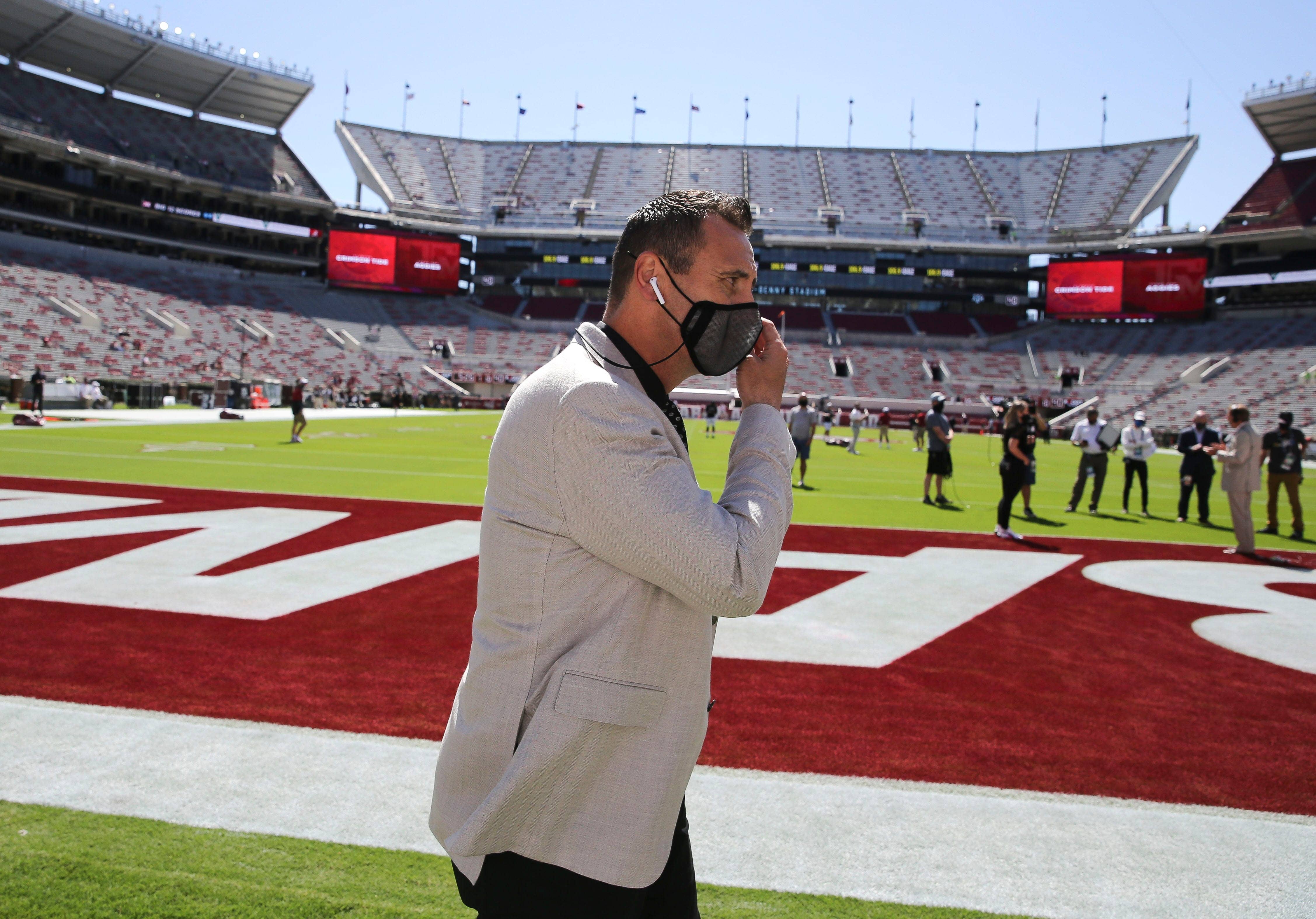 Alabama offensive coordinator Steve Sarkisian will replace Tom Herman as Texas head coach, and former Longhorn Brian Jones couldn't be happier.
"Love it. Love it, love it, love it," the CBS Sports college football analyst said on The Zach Gelb Show. "Hell, I don't even know if they said goodbye. They allowed Tom Herman to dangle, which I was actually reporting a couple weeks ago that that was going to be the case: get through this first recruiting haul, this early Signing Day."
Sarkisian, 46, is 46-35 as a head coach. He spent five seasons at Washington (2009-13) and part of two seasons at USC (2014-15). His Trojans tenure was derailed by off-the-field issues, and he has spent the last couple of seasons learning under Nick Saban.
"I love the hire, man," Jones said. "I think he's a dyed-in-the-wool football coach. No pretentiousness, no arrogance, and I also love his life story, his journey. He's going to be able to convey that to those cats in that locker room and talk about the ups and downs of life and how sports can teach you and help instill in you that determination to overcome, whether it's on the field or once you get off that field. I've been using those lessons my entire life. . . . I think Sarkisian will do the same thing."
Alabama's offense has flourished under Sarkisian. The Crimson Tide set a school record with 47.2 points per game in 2019 and set a new school record this season with 48.2 points per game.
"He's had some [great] offenses there with Bama," Jones said. "He's exactly what I wanted: just a football coach. None of all that other stuff. I think Texas folks will be surprised. I didn't need a splashy hire. I didn't need to be wowed. I just want a guy who knows how to build a championship team. He knows that. . . . There are championship-quality players there at Texas. They need an attitude adjustment, an accountability adjustment, and they need a foot-in-their-ass-every-now-and-then adjustment. I think he's going to bring all that."
Herman, meanwhile, went 32-18 in four years at Texas. He went 10-4 in 2018 but was 15-8 over the last two seasons.
Why didn't Herman work out for Texas?
"He was the flavor of the month, man, when he was coming out, and there were a lot of people knocking at his door," Jones said. "One, Texas is a different animal, and two, you look at the previous guys, even Mack Brown when he left . . . he got lackadaisical, got lazy, in the recruiting and was just settling on guys. . . . Charlie Strong, 50 percent of the fan base, the bigots, didn't want him; the other 50 percent, we did. But he had that to contend with. Also, he had so much turmoil and turnover with his staff. They could never get right there. There were so many things going wrong off the field as well as on the field. No way you lose to Kansas and hang on to your job there. It was probably over even before that occurred."
Strong went 16-21 in three seasons at Texas and was fired in 2016.
"Tom Herman came in with a lot of hope and hype," Jones said. "There were some things that turned me off early on: taking shots at Charlie Strong, even though Charlie Strong had left him a pretty stocked cupboard. That didn't sit well with me, but, hey, I still supported him, wanted him to succeed, and it just didn't happen. There was an unhappy locker room with a lot of guys there, and he rubbed the brass and the power players there the wrong way. If you win, you can get away with a lot. If you're not winning or not winning on a consistent basis – and definitely not beating the teams you should beat – well, they're going to come for you, and that's what happened."