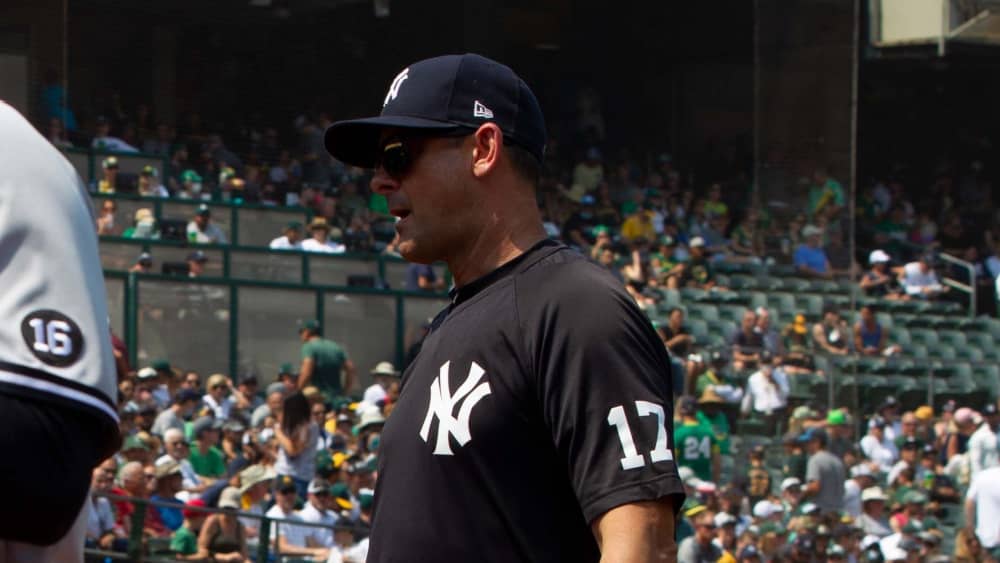 New York Yankees manager Aaron Boone was ejected in the first inning during the Yankees matchup against the Cleveland Guardians on Wednesday, following an argument with umpires over a play that was not initially reviewed by instant replay.
Cleveland had runners at second and third with one out when Josh Naylor hit a looper to center field that Yankees outfielder Aaron Hicks appeared to catch with a sliding grab. Hicks then threw to second for a force-out and an apparent inning-ending double play. After both teams left the field, however, a replay was shown on the giant left-field scoreboard of Hicks failing to make the catch.
While it wasn't immediately clear if Guardians manager Terry Francona had requested a challenge in the allotted 15 seconds, crew chief Larry Vanover huddled with the umpires for several minutes in the middle of the infield and first spoke to Francona, who appeared to be satisfied with what he was told.  Boone then came onto the field, obviously upset because the Guardians had taken so long to request the challenge. Boone spent several minutes pleading his case after the Yankees appeared to end the first with a double play. Boone left the field at least three times before returning to get more clarity on the play. After an obviously hostile and heated exchange, Boone was thrown out for the first time this season; and the 27th time in his career.
After the nearly 10-minute interruption, the umpires ruled that Naylor's ball dropped in for a base hit and an RBI. Guardians first baseman Josh Bell hit an RBI single to give Cleveland a 2-0 lead when play finally resumed; however, the Yankees ultimately won the game with a final score of 4-3.
Editorial credit: Conor P. Fitzgerald / Shutterstock.com