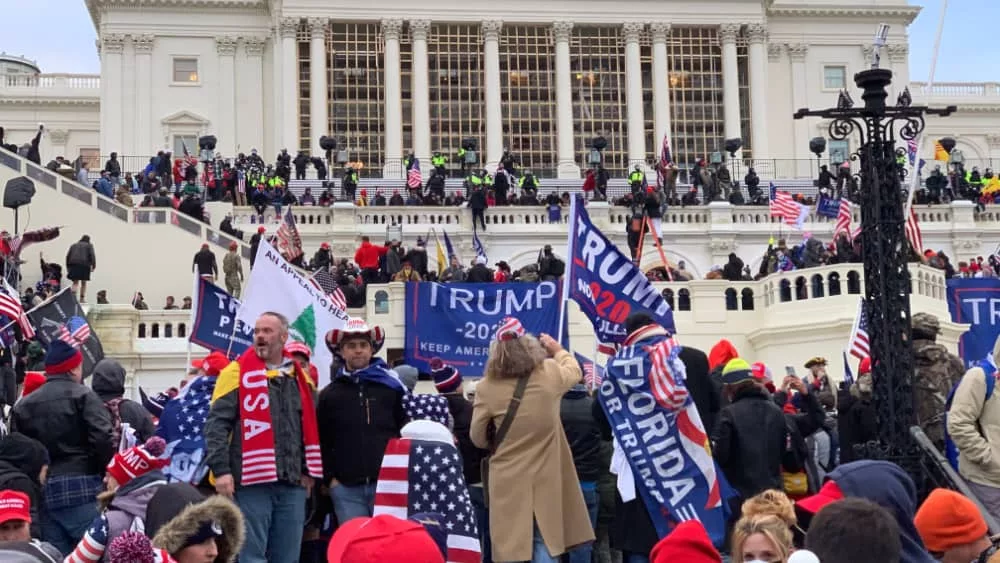 The former U.S. marine who became the center of a Jan. 6, 2021, conspiracy theory, has been charged with a misdemeanor offense in connection with the U.S. Capitol riot. Ray Epps is expected to plead guilty, according to court papers filed Tuesday.
Epps is charged with disorderly or disruptive conduct on restricted grounds, court records show. Epps attorney, Edward J. Ungvarsky, said in an email that the case was filed with an anticipation that Epps would plead guilty to the charge. The judge has scheduled a plea agreement hearing for Wednesday.
Epps, a one-time supporter of Donald Trump, claimed in a lawsuit filed this year that Fox News Channel made him a scapegoat for the Capitol riot. Epps has said he went to Washington to protest the 2020 election, was falsely accused by Fox of being a government agent who was whipping up trouble that would be blamed on Trump supporters. Although the lawsuit mentions Fox News personalities Laura Ingraham and Will Cain, former Fox host Tucker Carlson is cited as the leader in promoting the theory. Epps was featured in more than two dozen segments on Carlson's prime-time show, the lawsuit said.
Epps's lawsuit against Fox News says the U.S. Justice Department told him in May that he faces criminal charges for his actions on Jan. 6, and he blames that on "the relentless attacks by Fox and Mr. Carlson and the resulting political pressure." However, in an appearance before the House Judiciary Committee in July, FBI Director Christopher Wray denied having any knowledge of Epps being a "secret government agent." Wray said: "I will say this notion that somehow the violence at the Capitol on Jan. 6 was part of some operation orchestrated by FBI sources and agents is ludicrous."
Epps was a previously member of the far-right Oath Keepers extremist group, serving as an Arizona chapter leader before parting ways with the anti-government group a few years before the Jan. 6 attack. Oath Keepers founder Stewart Rhodes and other members were convicted of seditious conspiracy in the Jan. 6 attack.
Editorial credit: Sebastian Portillo / Shutterstock.com