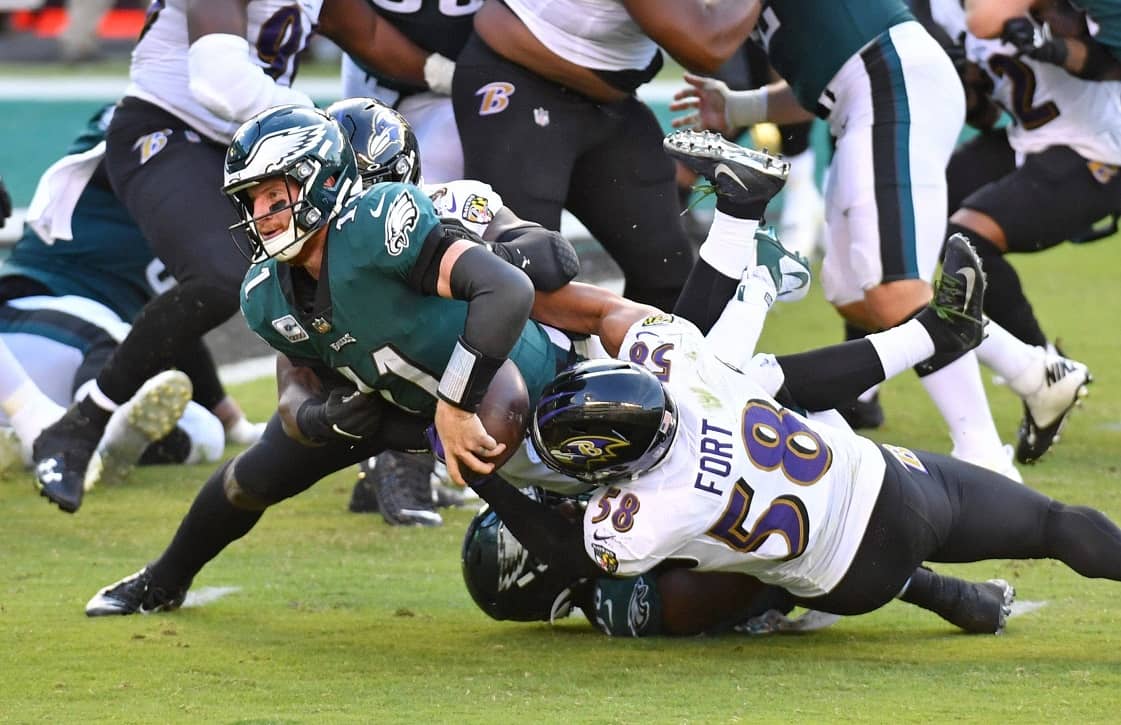 Carson Wentz has struggled this season, and, by extension, so have the Philadelphia Eagles (1-4-1). There are many reasons for this, four of which can be found in the trenches. Outside of All-Pro center Jason Kelce, the Eagles' offensive line has been utterly decimated by injuries.
How bad is it? Bad. Until recently, Jordan Mailata, Nate Herbig, and Brett Toth had never played an NFL snap, and Jamon Brown was out of a job.
CBS Sports NFL analyst Charles Davis knows Wentz can be better than what he has shown this season, but the offensive line is a serious issue for the Eagles.
"I don't care who the quarterback is," Davis said on Tiki & Tierney. "Good luck getting used to all of that."
And good luck producing without (healthy) playmakers. Alshon Jeffery and DeSean Jackson have both struggled with injuries in recent seasons – Jeffery, in particular.
"[Jeffery] hasn't been back since midseason last year," Davis said. "And when DeSean gets back, the last great game we saw him play was the opener of last season against Washington. Are we really going to expect a big jump when the two of them get back? [Wentz has] actually played better with the no-name receivers than he has when they've been on the field."
Greg Ward leads the Eagles in catches (24), while Travis Fulgham leads the team in receiving yards (284) and receiving touchdowns (three).
Thus, the question must be asked: Have the Eagles failed Wentz?
"There's a ton of injuries," Davis said. "The injury list is off-the-charts. They just lost Zach Ertz and Miles Sanders this week. So when I look at the organization, I don't think they failed [Wentz]. Could you make a case that maybe instead of drafting Jalen Hurts in the second [round] you go for some other help? Yes, you can make that case. Is Jalen Reagor the guy you wanted in the first? They like him. Okay, I get all that. They tried to supplement and put things around [Wentz], but if guys are dinged – the only guy that's made it through has been Kelce. That's it on the offensive line."
The Eagles, who are still vying for an NFC East title, host the Giants (1-5) this Thursday at 8:20 p.m. ET.