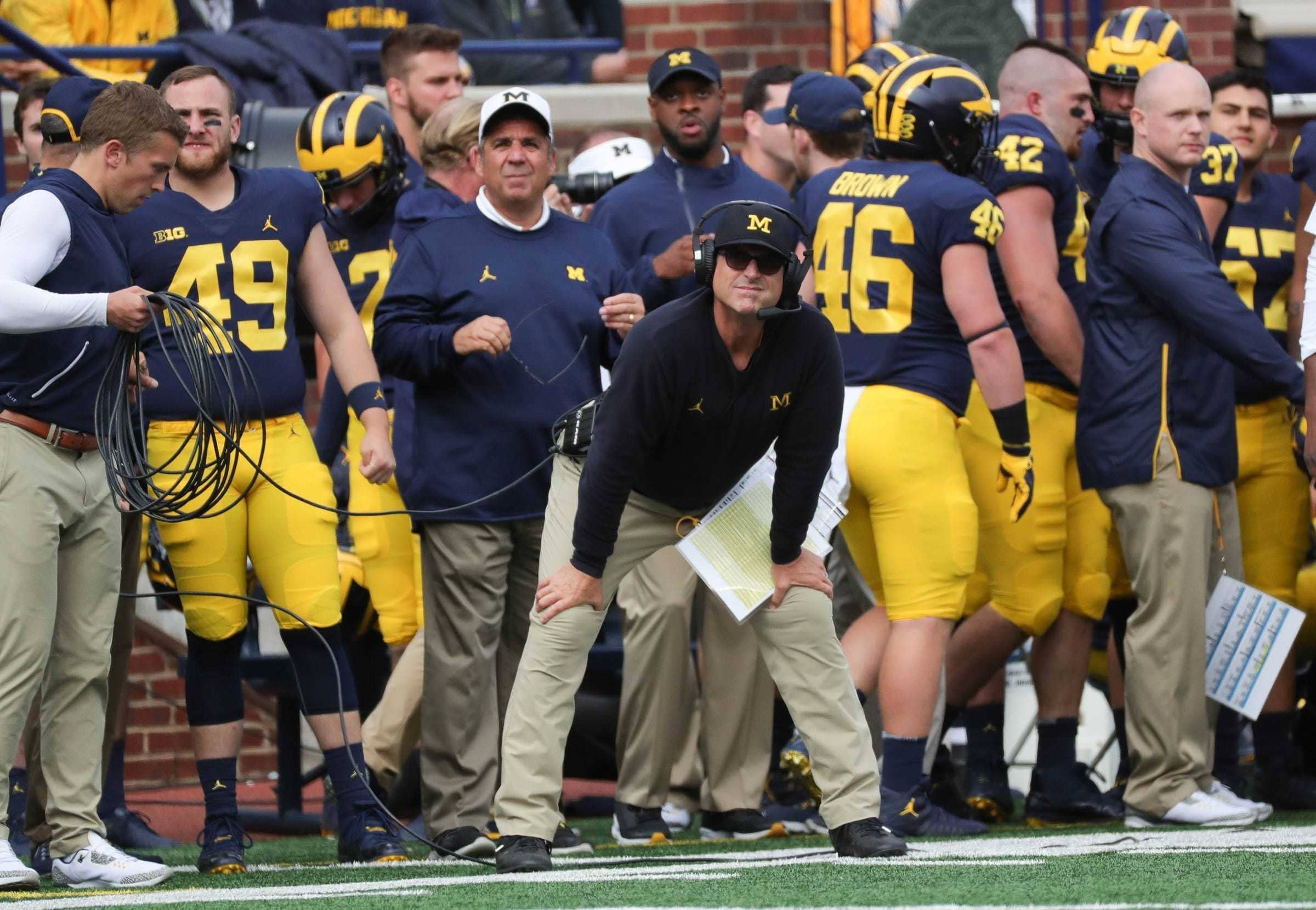 After walloping Minnesota 49-24 in its opener, Michigan looked like it would be a force to be reckoned with this season.
Then this past Saturday happened.
Michigan lost at home to in-state rival – and four-score underdog – Michigan State, 27-24, casting serious doubt on Jim Harbaugh's future in Ann Arbor.
"Whenever he's in big-game moments, key moments – whether it's a Michigan/Michigan State matchup, whether it's an Ohio State/Michigan matchup, whether it's a bowl win that you really need to get that last part of recruiting done – it just hasn't gone the way in which he would have liked it," former NFL wide receiver and Michigan All-American Braylon Edwards said on The Zach Gelb Show. "This past Saturday, you can say a number of things. You can say that it was [quarterback] Joe Milton's first home game in the rivalry. You can say that [former assistant coach Greg] Mattison is not there anymore. You can say it's the first home game for the whole team during COVID-19. You can throw all those things out there. But the fact remains you know who Michigan State is."
The Spartans (1-1), who moved on from Mark Dantonio this past offseason, opened the Mel Tucker era with a 38-27 loss to Rutgers on Oct. 24. They entered the Big House as 24.5-point underdogs. 
"You knew they were coming in from the bottom floor, where the only way they can go is up after the loss against Rutgers," Edwards said. "You have to prepare your team to win this game. This is a rivalry game. This is an interstate game. Most of these guys are from the same high schools, same conferences, same cities within the state of Michigan. They know each other and don't want to lose. He didn't do a good enough job of preparing his team to beat a Michigan State team that was down and that was ready to roll over."
Harbaugh is now 48-19 at Michigan. He is 11-14 against Top 25 teams, including 2-12 against Top 10 teams.
Is it time for Michigan to move on from Harbaugh, who makes more money than every coach in American not named Nick Saban, Ed Orgeron or Dabo Swinney?
"He hasn't gotten it done against Ohio State," Edwards said, referring to Harbaugh's 0-5 record against the Buckeyes. "He's even par against Michigan State. He hasn't gotten it done in the big moments – with the exception of Wisconsin a couple years ago and the Notre Dame game last year. He hasn't gotten it done. 
"When you pay those types of contracts in collegiate football where you're paying upwards of $6 million for a [head] coach . . . you expect to see certain types of wins, certain types of cultural changes," Edwards continued. "You expect to see certain types of attitudes and aggression in certain games. I think just based on that fact alone that you're not getting that, that might create the actual answer that you're asking me without me even having to tell you that. He hasn't gotten it done at the biggest level."
Edwards, who won the Biletnikoff award in 2004, believes Harbaugh has done some good things at Michigan. He's brought excitement and passion back to the program, and he's won 10 games in three of his first five seasons. The high-profile wins, however, haven't been there.
But that doesn't mean Harbaugh should be fired – at least not yet.
"If it's not Jim, then where do you go from Jim?" Edwards asked. "I don't think he's done enough to continue the position, but at the same time, you've got to have somebody ready in the wings, somebody waiting in the wings. You can't just bring in somebody else and we go from Lloyd Carr to a Rich Rod to a Brady Hoke and you spend another 11 years trying to figure out Michigan football."
As for a potential replacement for Harbaugh, Edwards is a big fan of Cincinnati coach Luke Fickell, who played for Ohio State and coached under Jim Tressel and Urban Meyer. Fickell is 27-5 since 2018 and has the No. 6 Bearcats sitting pretty at 5-0 this season.
"I love Luke Fickell," Edwards said. "I like Luke Fickell a lot, and I like what he's done at Cincinnati. . . . [He's shown] you what Cincinnati football is all about. They play defense, they play offense, and they have a lot of fun with it. I don't think there are any egos down there in Cincinnati. I think it's a committee. It's a win and lose by committee type of program. So I like Luke Fickell a lot. I've been keeping my eye on him for the past three years. I like Luke Fickell a lot."