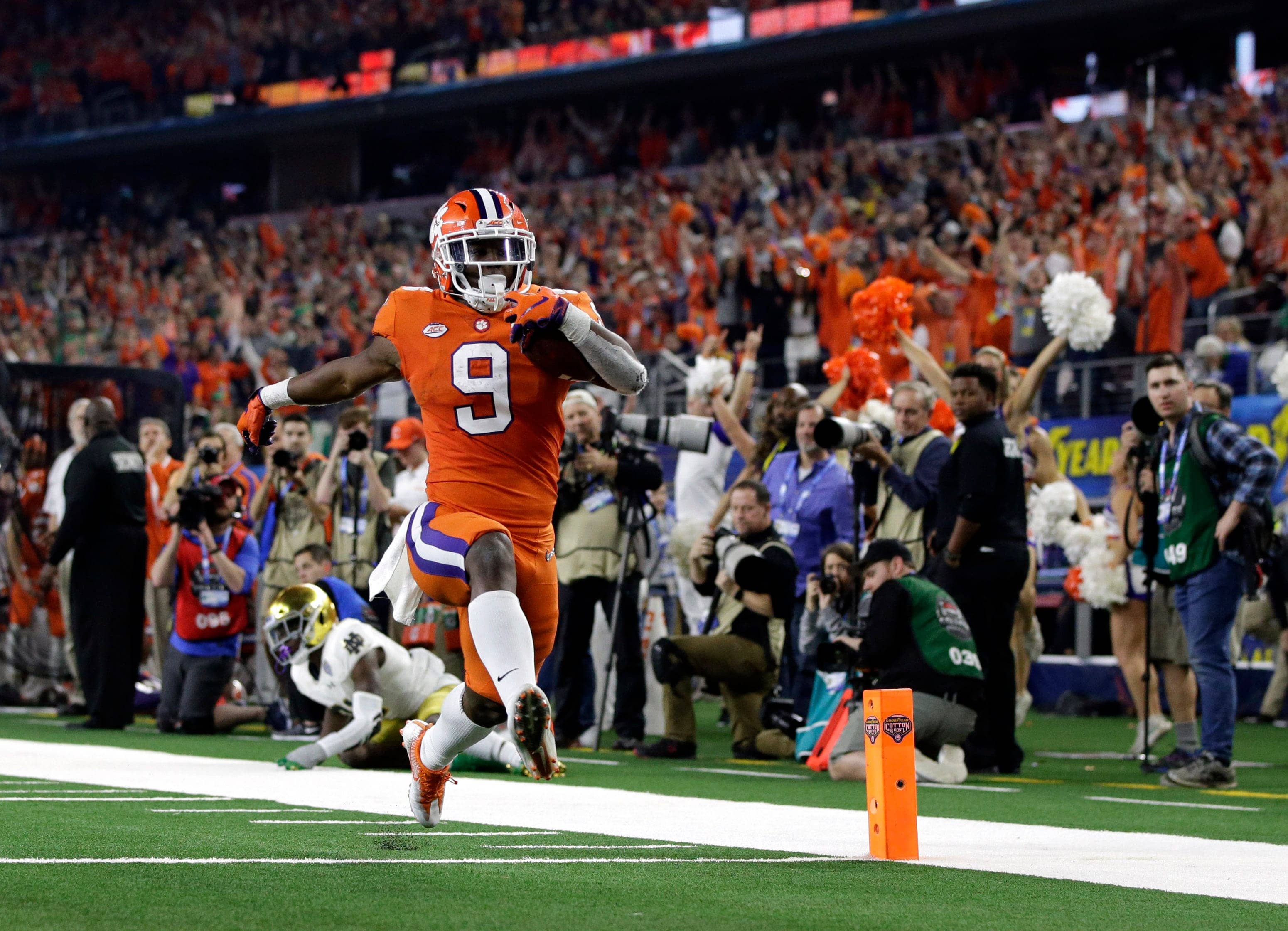 No. 1 Clemson (7-0) plays No. 4 Notre Dame (6-0) in South Bend on Saturday, and the Tigers will take the field without Trevor Lawrence, who will miss the game due to COVID-19. 
While the Tigers would love to have Lawrence, the presumptive No. 1 pick in the NFL Draft, they do have senior tailback Travis Etienne.
"We're going to make a big deal out of the fact that Trevor Lawrence is not going to be there, sure," CBS Sports college football writer and insider Chip Patterson said on The DA Show. ". . . [But Travis Etienne is] their easy button."
Etienne was Clemson's leading rusher and receiver against Boston College (4-3) this past Saturday. He carried 20 times for 84 yards and a touchdown and caught seven balls for 140 yards and a touchdown, helping the Tigers overcome a 28-10 deficit and win 34-28.
"Even when Trevor Lawrence is in the game, they have not had a very prolific downfield passing attack even to this point," Patterson said. "It's just been No. 9, man. You [can] get him the ball [in so many ways]. . . . He is the most important player for Clemson. No. 16 [Lawrence] is probably the generational talent, but No. 9 [Etienne] is the most important player to Clemson's success."
Etienne has more than 1,000 total yards and 11 touchdowns (nine rushing, two receiving) this season.
Clemson's defense, meanwhile, also deserves credit for the comeback against Boston College. After allowing 28 points in the first half, Clemson shut out the Eagles in the second half.
"Brent Venables probably gets a great amount of credit and the gold star and his paycheck as one of the highest-paid defensive coordinators in the country for the way that they were able to adjust," Patterson said. "It did look in the first half like Boston College was able to move the ball at will against Clemson's defense. You come out, you shut them out in the second half, and of course D.J.  Uiagalelei did everything you could ask him to do."
The freshman quarterback was 30-of-41 for 342 yards and two touchdowns against Boston College. He also carried six times for 25 yards and a score.
Kickoff against Notre Dame is slated for 7:30 p.m. ET.