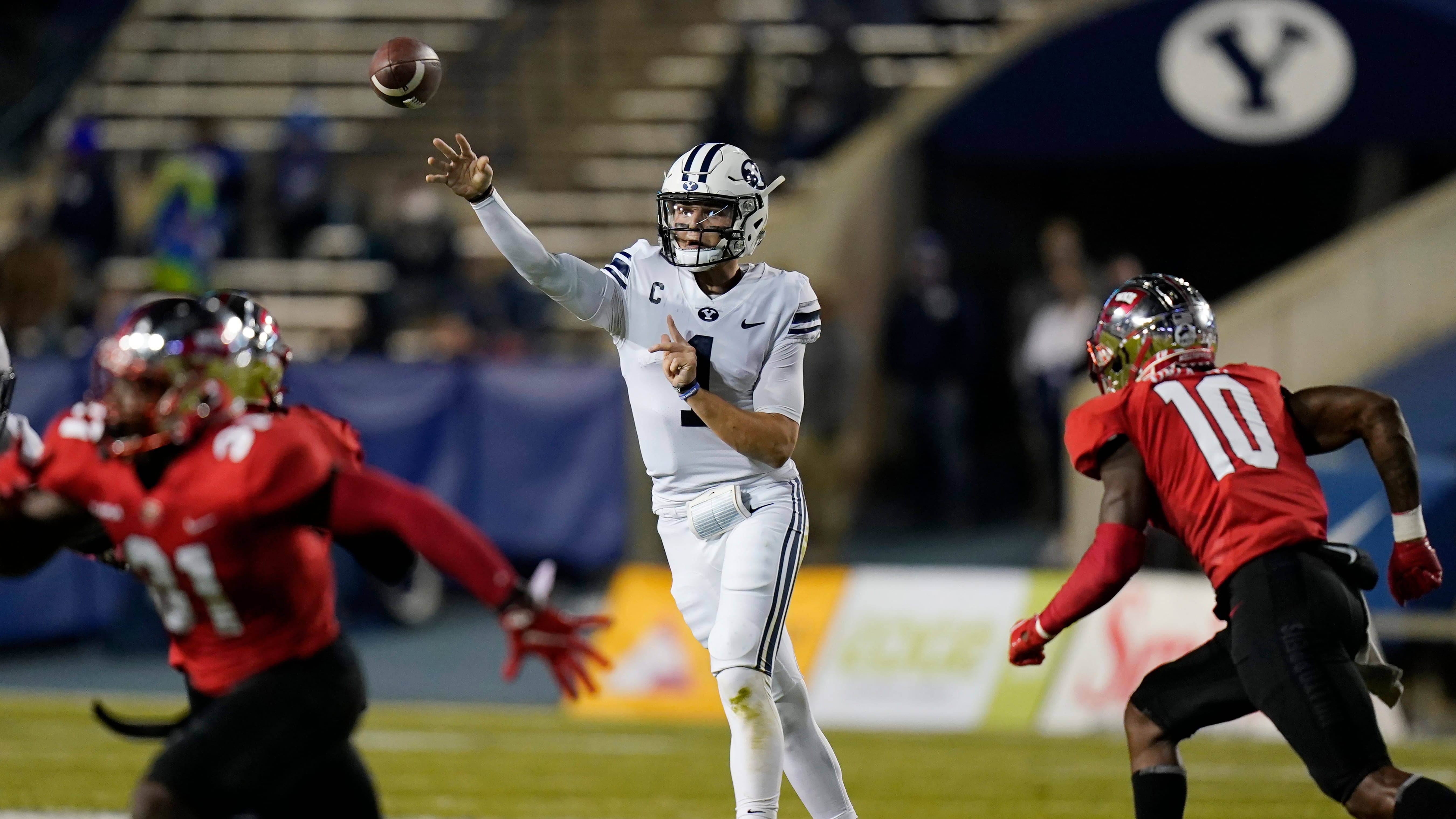 Perhaps you're not familiar with BYU quarterback Zach Wilson's work. Well, here's a crash course.
The junior has completed 75.1 percent of his passes for 2,512 yards, 22 touchdowns and two interceptions this season. He's also rushed for eight touchdowns, leading No. 9 BYU (8-0) to a top-10 national ranking – its highest since 2009.
He's also, according to some analysts, a projected top-10 pick in the 2021 NFL Draft. In fact, CBS Sports' Ryan Wilson has him going No. 9 to the New England Patriots.
"I actually didn't see that one," Wilson said on The Zach Gelb Show. "I don't see a lot of that stuff, but that's cool. If that's the team that wants me, shoot, I'll give it everything I have. Even if Cam [Newton] was still there when I went in for that situation, what a great quarterback to learn from. What a great guy to sit behind and experience the way that he has experienced the game and learn from all of his mistakes and the things that he's had success with as well. [Bill] Belichick is a great coach, and they're going to be on top again one day."
CBS Sports' Chris Trapasso, meanwhile, has Wilson going No. 5 to Washington.
Wilson is still getting used to seeing his name in first-round projections.
"Oh, no doubt, yeah, it's weird," he said. "I hear guys around me, friends talking about it, and you see it on social media every once in a while and it pops up and someone tags you. You try to avoid it, but honestly, it's cool. It's what we dreamed of. It's what every player's dreamed of, to see something like that. Until it comes to full effect, I really keep grinding every single day to make sure that I can do whatever I can to get there. But I really hope that some day I can be in that spot to get drafted that high."
It's possible that Wilson could be the third Patriots quarterback in as many years. The Utah native has great admiration for both Cam Newton and Tom Brady.
"Cam Newton, he's got a chip on his shoulder," Wilson said. "He's got a ton to prove. And I loved what I saw of him the first couple of games. I haven't watched their past recent games. I know they haven't been winning like he wants to, but I know he's a competitor as well and he has a lot to prove about himself and about the Patriots as a team. So I know Cam Newton is probably going to come back, and he's going to find his way as a quarterback again like he used to be."
While the Patriots (3-5) have struggled this season, Brady has the Buccaneers (6-3) firmly in the NFC playoff picture.
"I think Brady's phenomenal," Wilson said. "I think you have to give him so much credit for his career. So many people talk about Belichick and the things that he's done, and I think it's there. But I think the competitive spirit is what makes Tom Brady special. That guy just seems like the most competitive guy out there. He gives it everything that he has, and I feel like he relates a lot to Drew Brees, when I was able to meet him. I feel like he just wants to be the best so bad. And really there's nothing special about him physically, right? So I mean, that's why he's not my favorite to watch because there's really nothing special. But he always gets the job done."
Wilson was asked if this is his final season of college football.
"No, that's definitely not something I can answer right now," he said. "Really, my goal in mind is next week [against] North Alabama. Then we got a great one against San Diego State. Hopefully [we can get] to a good bowl game or [into] the playoff conversation."