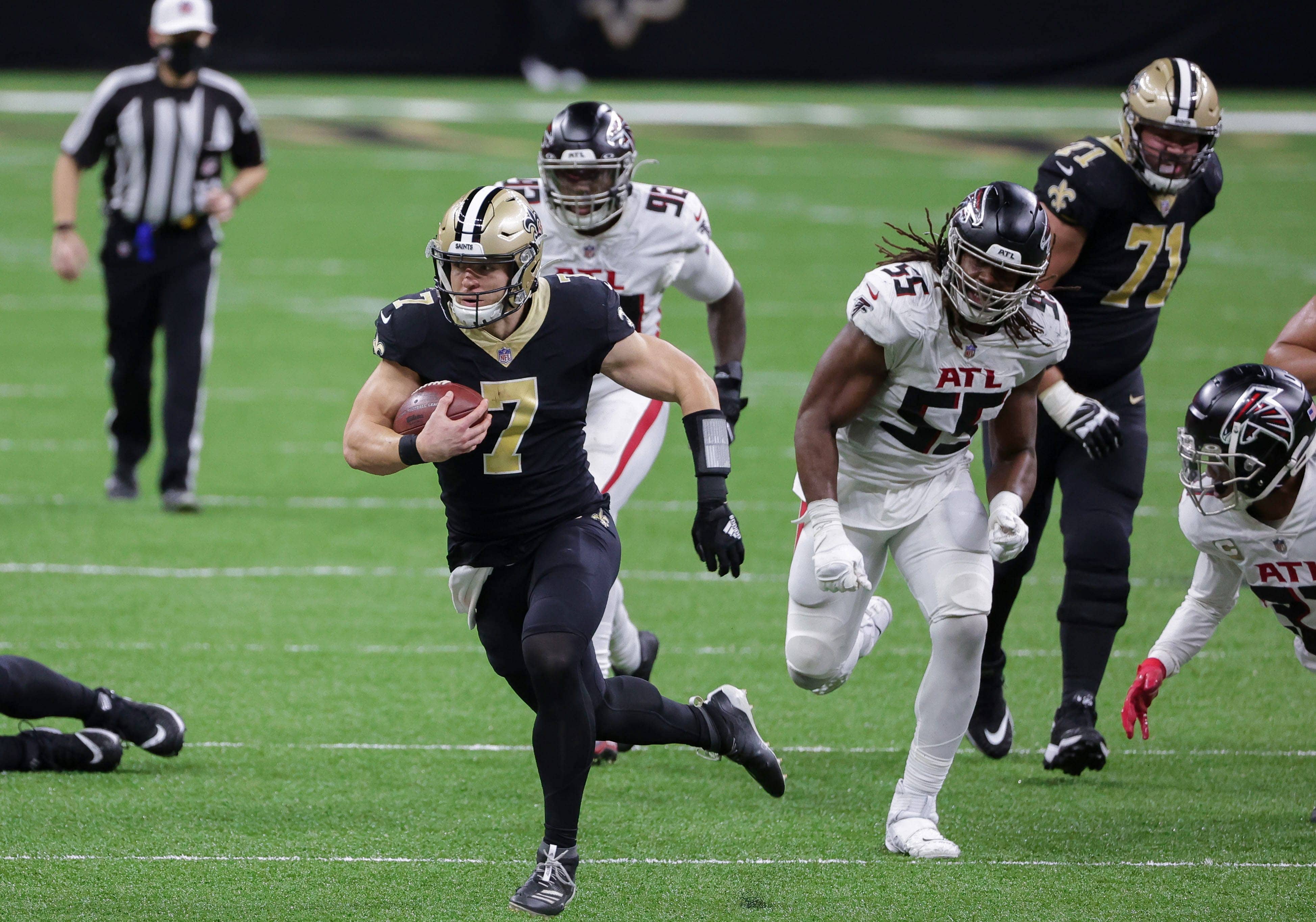 Taysom Hill is 2-0 as the starting quarterback for the New Orleans Saints, and former NFL linebacker Brady Poppinga isn't the least bit surprised. In fact, Poppinga has known for a long time that Hill would be a successful quarterback at this level, and he would take Hill over dozens of NFL QBs, including Kyler Murray, Lamar Jackson, Joe Burrow, and Justin Herbert.
Yes, you read that sentence correctly.
Why is Poppinga so high on Hill? It all started when Poppinga, who played for BYU, visited his brother, Kelly, who was an assistant coach for the Cougars from 2009 to 2015. 
"I went to visit him one training camp, and there was this big quarterback who was just an athlete who they had, and it was Taysom," Poppinga recalled on The Zach Gelb Show. "He was raw, but I could see that he had some tools. When you play against Aaron Rodgers and Brett Favre for thousands of reps in practice like I did all six of my years with the Green Bay Packers, you figure out what are the attributes of a successful NFL quarterback, especially the upper-echelon type. The one thing that kept jumping out about him wasn't his throwing ability, wasn't his running ability – although he's fine in those areas. He can run the ball, he's athletic – he has a physical makeup and a skillset that's very rare. It's probably the rarest physical skillset we've ever seen in a quarterback. The only other time would have been if Bo Jackson would have played quarterback would it have been similar. You can't compare him to anybody."
Hill played for BYU from 2012 to 2016 and was a force both with his arm and his legs. In 2014, however, Hill broke his leg in a game against Utah State. 
His teammates were devastated.
"In that moment, I realized that dude, he injects so much confidence and he elevates everybody around him so much that he becomes like what I saw in Aaron, what I saw about Favre," Poppinga said. "That's the thing that those guys did. They elevated everybody's game around them. It's just a fascinating thing. It's almost like when you play with those guys, you want to impress them; you want to make them proud. Taysom has that influence."
In two games as a starter for the Saints, Hill is 27-for-39 (69.2 percent) for 311 yards and one interception. He has also rushed 20 times for 93 yards and four touchdowns.
"Whenever he makes a play or scores, guys just love it and it injects an energy into the team," Poppinga said. "So he has that special connection with his teammates, and on top of it, the special skillset. I would take Taysom right now over Baker [Mayfield], over Kyler, and it's because of all of those skills that I just mentioned. The only thing that's ever held Taysom back in his career has been injures. So you can say it right now. Put this on Twitter, bookmark this. As long as Taysom stays healthy, he will take over for Drew Brees and become the face of the franchise for the Saints. I'm telling you right now it's going to happen."
Poppinga, though, didn't stop there.
"The second thing that's going to happen," he said, "is he's going to be in the upper-echelon of quarterbacks. He's going to be in the category of an Aaron Rodgers, Pat Mahomes, Deshaun Watson, Russell Wilson, Ben Roethlisberger. Those are the only guys that I think right now are more advanced at that position than he is. But he's going to get there. You got to remember: the last two, three years, four years, all he's ever focused on is playing multiple positions. He's never singularly focused just on playing quarterback. Just think about that. So if he does as well at this multi-dimensional spot as he does – which, I don't remember a guy playing as well as he has playing H-back, fullback, tight end, receiver, quarterback and then special teams – I've never seen that, a guy play so well at each one of those positions against guys who specialize. So now imagine he can focus all on just being a quarterback. There's no doubt in my mind he'll be an upper-echelon quarterback as long as he stays healthy."