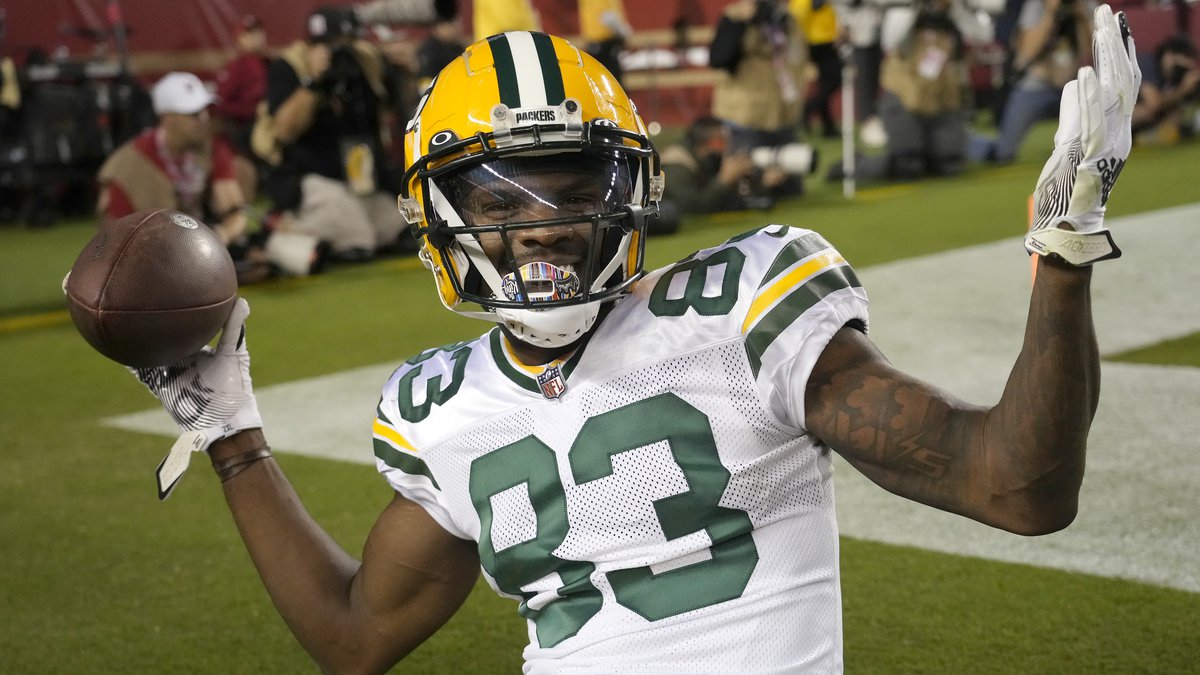 Two weeks after he and the Packers suffered an embarrassing loss to open the 2021 season, Aaron Rodgers showcased flashes of his MVP form on Sunday night, hitting the road for a visit with the 49ers and handing San Francisco its first defeat in the process. While Kyle Shanahan's squad never quit, battling injuries on both sides of the ball to take a last-minute lead and threaten a fourth-quarter comeback, Rodgers made things look easy for long stretches of the contest, frequently connecting with Davante Adams to keep the Packers in control. A feisty effort from Green Bay's defensive line helped, as did some last-drive heroics from Rodgers and Adams, plus a game-ending 51-yard field goal from Mason Crosby, to lift the Packers, 30-28.
Here are some immediate takeaways from Green Bay's prime-time victory:
Why the Packers won
Plain and simple: Rodgers was in MVP form. Remember 2020, when No. 12 was headlining every prime-time Packers game with signature bullets and lightning-quick scoring drives? This was like that. In contrast to his unusually lifeless season opener earlier this month, Rodgers was nearly flawless here, picking apart San Francisco's battered secondary for much of the night. Adams turning in an A-plus outing on the outside was a big help, with the top target making it look easy on key downs. And Matt LaFleur oversaw a balanced game plan, with Aaron Jones pacing a solid ground game. Defensively, the Packers occasionally matched the 49ers' front-seven intensity, with the linebackers keeping Jimmy Garoppolo on edge, and secondary heavy hitters like Jaire Alexander and Darnell Savage helped set the tone. It wasn't a perfect night, but the Packers looked like a complete team for the second straight week, this time against a seemingly formidable opponent.
Why the 49ers lost
As smart as Shanahan may be, his offense generated far too little and too late to keep up with Rodgers. The run game, where a slew of backs were already banged up, was partly to blame with Trey Sermon and Kyle Juszczyk mostly plodding along. The O-line wasn't great. But the issues chiefly belonged under center, where Garoppolo was fine — not awful, not special, just fine — in a matchup that demanded a playmaker at QB. Consider that Shanahan relied several times on rookie Trey Lance to relieve Garoppolo in the red zone, where performance matters most; it's clear Lance's athleticism expands what the 49ers can do with the ball, especially considering how strained their ground game is, but instead it was a lot of dink-and-dunking, with the rare big play by George Kittle or Brandon Aiyuk. Jimmy G, by the way, was composed during the 49ers' fourth-quarter comeback but also contributed a late-game fumble on a backward pass. On defense, meanwhile, San Francisco stayed busy up front, with Nick Bosa, Arik Armstead and Dee Ford forcing Rodgers to shift, but its thin secondary lost veteran Josh Norman to injury and was already destined to struggle here.
Turning point
There are so many! Down 10-0 in the second, the 49ers started their first drive of the quarter at their own 14-yard line following a punt from the Packers. On the first play of the series, Garoppolo thought he had Kittle deep downfield and lofted one past midfield, only for Alexander to fly in and pick it off, setting up Green Bay inside 49ers territory. The Packers would ultimately fail to pick up a fourth-and-1 attempt in the red zone, but the turnover killed any momentum San Francisco had ahead of halftime, sealing the Packers' comfortable early lead and setting the tone for much of the night. If you're looking for an alternative, make it Garoppolo's accidental backward pass with just about four minutes left in the ballgame. Trailing by just three with a chance to either tie or take the lead, the QB thought he was avoiding a sack by chucking the ball at the ground in the face of Kenny Clark pressure, only to give the Packers a key possession by throwing it backward at the ground.
Play of the game
Rodgers was responsible for a number of highlight-reel throws on a night where things often seemed too easy for him, but nothing topped this dart to Marquez Valdes-Scantling in the back of the end zone, which put Green Bay up 10 in the fourth:
What's next
The Packers (2-1) will return to Lambeau in Week 4 to play host to the Steelers (1-2), who are fresh off a big loss to the Bengals. The 49ers (2-1), meanwhile, will stay at home in a crucial divisional showdown with the Seahawks (1-2), who've lost back-to-back close games against the Titans and Vikings.
— CBS SPORTS