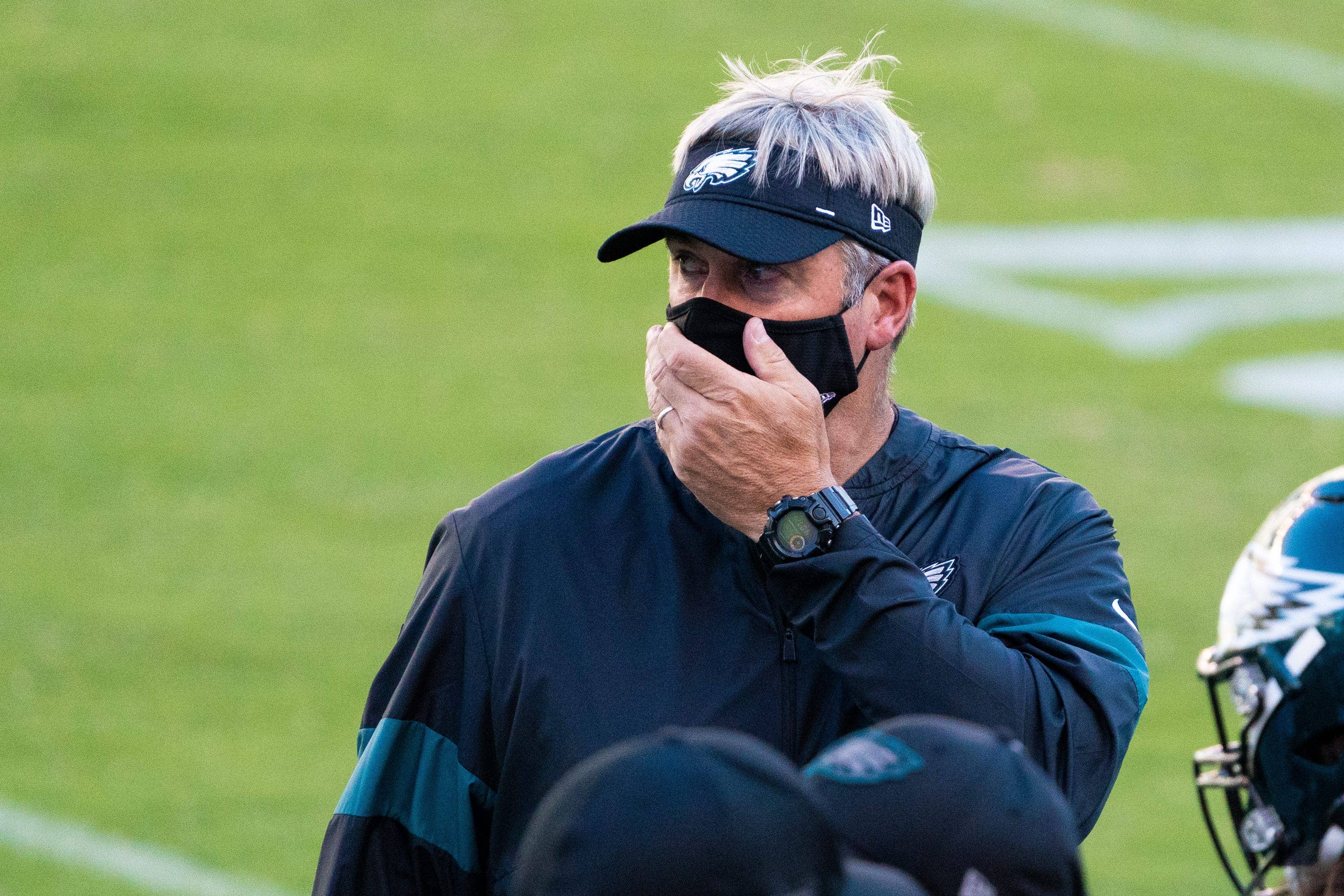 When Philadelphia Eagles head coach Doug Pederson benched Jalen Hurts against Washington on Sunday Night Football, Mike Holmgren got an uneasy feeling.
"I kind of squinted and I'm going, 'Awww, jeez, don't do that,'" the former NFL coach and Super Bowl champion said on The Zach Gelb Show. "That was my first thought. You're playing to win every game. You made a switch to Hurts during the season, which proved to be a little problematic for you as a coach, so don't compound the problem. He said he had reasons, and I trust him. Doug's a good guy and a good coach, but I wish he hadn't done that."
It seems many of Pederson's players felt the same way. In fact, two Eagles reportedly had to be restrained from Pederson after the game.
Can Pederson salvage the locker room?
"I think if anyone can fix it, he can," Holmgren said. "I think he has a good relationship with his players, but they're mad. I get that."
The Eagles (4-12), who finished with their worst record since 2012, improved their draft stock with the loss and will pick sixth in the 2021 NFL Draft. But that doesn't make tanking okay.
"I've been in some seasons where things weren't going well, but you're battling like crazy," Holmgren said. "You're not thinking about draft choices. You're not doing any of that stuff, unless the owner would say, 'Listen, this is what I would like you to do.' In which case I would quit – because that's not how it's done."
Holmgren believes Pederson should meet with the nucleus of the team and hear them out.
"Let them talk and then you explain yourself," Holmgren said. "But Doug can do that. He'll get them back on his side, I believe. But like I said, I was squinting when it happened and I wish he hadn't done it."
As for the team's starting quarterback next season, Holmgren doesn't think the Eagles should give up on Carson Wentz just yet.
"Personally, I like Carson Wentz a lot," he said. "I liked him coming out. I like when I watch him play most of the time. I think I can fix every quarterback that ever lived, that's my problem. But I think there are some things he has to work on, and you just have to be firm about it. You talk about my time with Brett Favre or Matt Hasselbeck or Steve Young or any of the guys I had the privilege of coaching, there was a lot of tough love going on. But at the end, they knew I loved them, so I was trying to help them."
Wentz's biggest issue, Holmgren says, is decision-making.
"Skill-wise, I think he's got what it takes," Holmgren said. "I really do. Now, is he willing to trust the play-caller, the head coach – what kind of relationship do you have? If all of a sudden you don't think he's listening anymore, then that's not good. That doesn't work."